He has been
Gwyneth Paltrow
's mentor for quite some time.
Chris Martin
also admits he has helped him a "great deal."
But Dr. Habib Sadeghi and his wife Dr. Shahrzad "Sherry" Sami's philosophies are not only known to
Paltrow and Martin
, who put the two doctors' "
conscious uncoupling
" concept front and center when
they announced
their
decision to separate
after 10 years
of marriage
on Tuesday.
In Dr. Sadeghi's book
Within
, released on Jan. 1, other celebrities – including
Emily Blunt
, Stella McCartney and Tim Robbins – attest to his fresh approach in healing the mind, body and soul.
In the book's foreword, Paltrow praises Sadeghi's "understanding of how the mind, body and spirit are connected," and writes it's that relationship which "creates dramatic changes in people's lives, mine included." The actress also claims that he "brought clarity to my life" by teaching her that "our thoughts and emotions have far more influence on our health than we've ever imagined."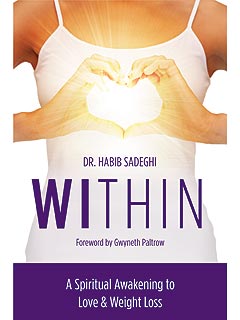 Based on the premise that "self-love" is the one thing "that can bring peace to our minds and healing to our lives,"
Within
is written with the battle of weight loss in mind, but Dr. Sadeghi clarifies that learning to "self-love" can heal many other problems, including the "struggle with alcohol, drug abuse, relationship problems or other health concerns."
Robbins swears by his approach, suggesting that "Habib has practical suggestions on how to achieve a new realm of healing." Similarly, McCartney attests that "he gives us support to life's challenges in a way that removes fear and shame."
Paltrow's friend Tracy Anderson has also
been a client
of Dr. Sadeghi's at Be Hive of Healing, his integrative medical center in Los Angeles.
"His book is not about counting calories," Anderson told PEOPLE in December. "It's about getting to the issues of why you are not achieving. What were you given that you have not worked through?"
"He's a mentor of mine," she adds. "I call him a super doctor."