Over more than 30 years on the air,
David Letterman
went from the class clown of late night to one of its most respected icons.
In the '80s, Letterman's Midwestern snark and ironic sensibilities were considered groundbreaking in the comparatively staid world of Johnny Carson and Tom Snyder; now they've provided the groundwork for many of today's mainstream comedy trends. (Check out
Letterman's 9 Most Unforgettable Late Show Moments.
)
As Letterman prepares to
step away from the desk for good
in 2015, here's a look back at the 10 (could it have been any other number?) best things Letterman gave us:
1. Top 10 lists
Dave popularized the list – the dominant way of conveying information in the Internet age – and never asked for a cent in royalties.
2. Stupid pet tricks
Thirty years before LOLCats, Dave doubled down on the fact that people would watch animals do nearly
anything
.
3. Stupid human tricks
What's adorable when practiced by a dog becomes strangely compelling when practiced by its owner.
4. Harvey Pekar
Pekar was a veteran comic writer before he appeared on
Late Night
, but his tense sparring matches with Letterman made him a household name – at least in the households that appreciated underground comics.
5. Larry Bud Melman
The origin of Calvert DeForest's character Larry Bud Melman has been lost to history, but whoever created him deserves credit for one of the weirdest anti-comic creations in TV history.
6. Chris Elliott
Elliott was the scion of a
famous Hollywood family
, but it was his stint as a writer-performer on
Late Night
that truly launched his career.
7. Awkward celebrity interviews
You're welcome,
Zach Galifianakis
.
8. Late-night breasts
Dave has walked the line between flirty and pervy over the years, but this mid-'90s interview with
Drew Barrymore
stands out as the only time a guest flashed him on-air.
9. Dropping things off a five-story tower
In his low-budget NBC days, Dave delighted in doing self-consciously time-wasting gags, preferably ones that ended in inanimate objects being destroyed. When he dropped six-packs off a building, or
crushed tubes of toothpaste with a steamroller
, an entire genre of YouTube clips was born.
10. Guys in bear suits
Like a lot of Letterman bits, we get exactly what's in the title: a guy in a bear suit, doing things. Viewers knew what was coming, but that didn't make it any less hilarious.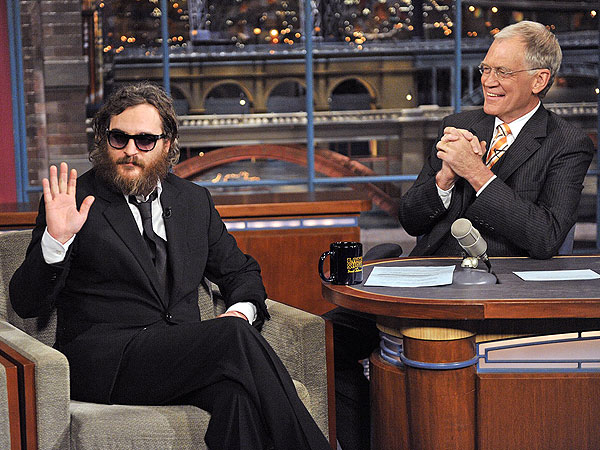 John Paul Filo / CBS / Getty
Like us on Facebook for more stories like this!