Bob Saget is no
Danny Tanner
.
But he's not quite the bawdy, vulgar guy he's sometimes made out to be, either. He hangs out somewhere in the middle.
Before signing copies of his new book,
Dirty Daddy
, at Books-a-Million in Washington, D.C., on Friday, Saget interrupted his interview with PEOPLE to answer a customer's call on the store's ever-ringing phone. The sound was a distraction, but that wasn't the only reason he picked up the receiver.
"I wanted to help them!" Saget, 57, told a mortified store employee.
In his book, the comedian and actor reveals more about himself than a casual fan may know – he's coped with the tragic loss of his loved ones through humor, he can't bear to be mean in his standup, he's fiercely protective of his young sitcom costars, and he calls in numerous votes for
Candace Cameron Bure
on
Dancing with the Stars
: "DJ's gotta win!"
Then again, you can't go more than a few pages in his book without a crack about the male anatomy.
Here are five things you probably never knew about confounding comedian …
1. He Doesn't Ever Want to Be Called a Celebrity
"Celebrity is a word that I find offensive.
That's
the c-word. I hate it," says Saget. "It means no discernible talent. It means all you want is to be famous. It doesn't mean you're a writer, an actor, a mime. I think I wanna
not
be a celebrity."
2. He's Got a Real Soft Spot for Full House
Despite often joking that his favorite episode of the family comedy was "the last one," the actor shares plenty of praise for the wholesome show in
Dirty Daddy
. "All I have is love for the thing," he tells PEOPLE of his time as Danny Tanner. "Not, oh my God, I had to play that guy. The show worked because we're on every night of the week right now. People learn English from
Full House
. Candace's husband, Valeri Bure, he learned to speak English watching it … 'Aw, nuts.' 'You got it, dude.' "
3. But He Doesn't See the Reunion Happening
Sorry, Tanner family fans. Here's one cast member who doesn't think
the rumored reunion
is going to happen. "Five years ago, I said, 'Hey, everybody looks pretty good. I kinda still look OK. We should hurry,' " he jokes of reuniting the cast, but adds that the show was "such a sweet thing, nobody should mess it up. Not everyone would want to do it – maybe two-thirds of the cast.
We made fun of the show on Jimmy Fallon
where John [Stamos] wore the mullet and Dave [Coulier] wore the funny wig. We keep doing the same joke. I mention Stamos's name every 15 minutes. That's a problem." Still, perhaps Saget should never say never: "John is such a good guy and I think he would want it to happen in some way if it could."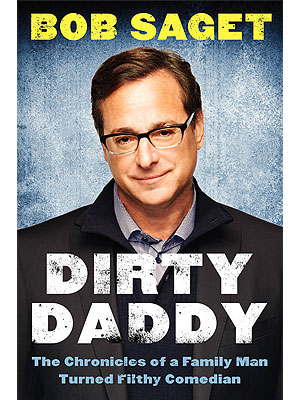 4. He's Not Above Taking PMS Medication
"I've taken Midol before. My daughters find that hilarious," Saget writes in his book. "I had a headache and cramps and there were no other pain relievers with caffeine in the house. Too. Much. Information. But I think that's what a book's supposed to be. Well, this one apparently is."
5. He's Humbled by the Reaction to His Book
"I was on a plane yesterday and two flight attendants said, 'Where's my book?' And then the guy next to me was holding
USA Today
with my picture on it. It was a little fan section," says Saget. "I'm really proud of myself. To be at this point is amazing to me. And to look at a cart with a lot of my books on it? It's very cool."