It's been a busy few weeks for Donnie Wahlberg, between wrapping the fourth season of
Blue Bloods
and expanding his
family's burger joint
Wahlburgers to include a Fenway Park location … oh, and asking
Jenny McCarthy
to
marry him
. But if there's one thing he always makes time for, it's his beloved city of Boston.
The actor and New Kids on the Block star will be heading to his hometown on Sunday for the Boston Marathon, a year after
two bombs
went off at the finish line.
"We were all really affected last year," he tells PEOPLE, remembering that he heard the news while filming on the set of
Blue Bloods
in New York City. "The crew, who had all lived through 9-11, started coming over to me one by one, saying, 'There is something wrong in Boston, you should go call people.' "
This year, you'll find Wahlberg watching along the race route, shoulder-to-shoulder with his fellow Bostonians. "I can't even imagine how proud I'm going to feel standing there," he says. "I had a notion of running it myself but I decided to put my energy into supporting my brother [Jim], my bandmates [Joey and Danny], and all the other thousands and thousands of people running."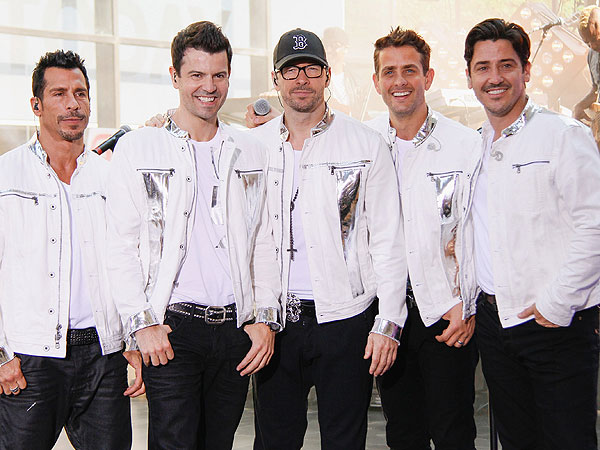 Janette Pellegrini / Getty
Jim Wahlberg oversees the Wahlberg Foundation and is raising $100,000 for Boston inner-city youth. "I can't believe he's doing it," says Donnie, laughing. "He spent his whole life running from the cops and now he is running the marathon… He is a hero to me right now."
One thing's for sure: Wahlberg is getting used to these emotional moments. Last weekend he proposed to McCarthy with the help of her 11-year-old son Evan.
"I just went with my heart," Wahlberg says. "I had these other plans of being on a boat or in some spectacular romantic location, but we were having a good time with Evan and I thought, 'This is the time to do it.' "
As for Jenny's
yellow sapphire bling
? "I saw it and knew it was the perfect ring."
When it comes to wedding planning, he's hoping Jenny will take the lead – "Isn't the bride supposed to do that?" – since Wahlberg will be busy putting together NKOTB's four-day weekend extravaganza
in Vegas
in July with his fellow New Kids. If his fans are still standing, that is.
"We have some pretty awesome fans, and if we want them to turn Vegas upside down, they'll turn Vegas upside down," he says.
After that, though, it's back to filming season 5 of
Blue Bloods
. "I have a great time doing this show," says Wahlberg. "I'm running around the streets of New York with my shield on, being a cop. I can stop traffic if I need to. And I'm only a few blocks away from my fiancée. She can come by at any time and give me a hug. It's pretty awesome."