SEE 26 MORE CLOONEY WEDDING PHOTOS! Subscribe now to People's digital edition and get 26 BONUS photos from inside the ceremony, the parties and more, starting today – and pick up the new issue on newsstands.
George Clooney doesn't get upstaged much, but he gladly ceded the spotlight on his wedding day.
On Sept. 27 the dashing Oscar winner slipped on a Giorgio Armani tuxedo and, escorted by his mom, Nina, walked down the aisle in a gilded hall at Venice's historic Aman Canal Grande hotel.
The groom's entrance was greeted by enthusiastic clapping from about 100 close friends and family gathered for the (epically) romantic occasion.
But it was hardly the main event.
That came when a string ensemble struck up "Here Comes the Bride" and the day's real star took center stage: Amal Alamuddin, the British human rights lawyer who has made an honest man of one of the world's most famously single guys, walked in on the arm of her father, Ramzi, looking stunning in a French lace Oscar de la Renta gown.
The crowd went wild and then watched as the pair exchanged vows in a traditional ceremony presided over by their friend, former Rome mayor Walter Veltroni, and sealed with a lengthy kiss.
Cue more cheers from the guests, who were matched in their enthusiasm by the blissful groom.
So, what's it like to be George Clooney, husband? "It feels," the star tells PEOPLE, "pretty damn great."
To continue reading this story and see a bonus photo gallery of 26 more photos from George and Amal's wedding, go to PEOPLE Premium or PEOPLE's tablet edition.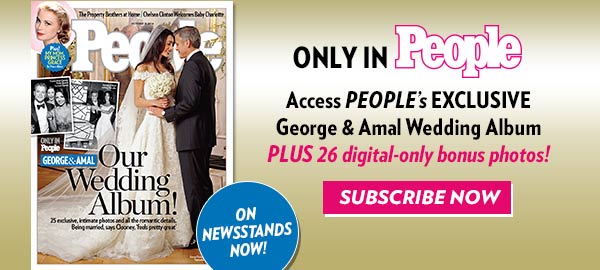 How Much Did George Clooney's Wedding Actually Cost?