Team Ninja Warrior
has found it's winners!
Though it was touch-and-go early on for the champions of the
American Ninja Warrior
spinoff, but one team rose above the rest.
Warning: Spoilers ahead for Tuesday's finale of Team Ninja Warrior
.
In the end, Party Time took home the glory on the Esquire Network show, with team captain Brian Arnold leading team members Jake Murray and Jennifer Tavernier to victory. The team collected an undisclosed cash prize, the trophy and – most importantly, glory.
RELATED VIDEO: Did You Know American Ninja Warrior Host Matt Iseman Is Also a Doctor?
"The prize is nice, but it really is the satisfaction of impressing myself," Arnold tells PEOPLE of the win. "When I originally stepped up to the line, I was like, 'The odds of you winning this whole thing are very slim because there are some phenomenal athletes here.' These guys are my heroes. They can do things I can't do. They are super impressive to watch."
Arnold ran into some trouble early on when he lost to The ExpendaBulls' Kevin Bull and had to go into sudden death.
"When I realized how fast he was, I was just like, 'Oh damn. I'm going to have to give it everything right now to win.' I'm very competitive," says Arnold. "I wanted to win so I stepped on the gas."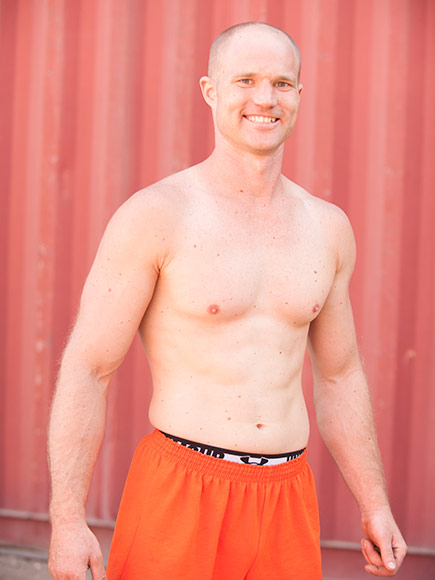 Courtesy: Esquire Network
Though they are named Party Time, Arnold insists the team didn't get too wild after their victory, but they still had plenty of fun with their fellow contestants.
"We all had dinner. All the ninjas," says Arnold. "We had a bunch of friends there so we went out and partied. When I say 'party' I'm not a big drinker or anything, but we went out and ate and just hung out. I'm one of the older guys. I'm 38. I need every little edge I can get to keep up with these young guns."
What's next for Arnold? He's continuing to help children battle childhood obesity by encouraging physical activity via his website
wolfpackninjas.com
, and he hopes to tackle the elusive Mount Midoriyama on
American Ninja Warrior
.
"I know I can do it. It's just a matter of keeping it together and doing it right," says Arnold.