Puffy Trial: PEOPLE.com Report
Sean "Puffy" Combs's driver, Wardell Fenderson, said the gun found in the Lincoln Navigator was his, but then changed his story, according to an officer who testified Thursday in the dramatic trial of Combs, reports PEOPLE. Officer Mark Rowley and Sergeant Jack Konstantinidis were among the first on the scene that fateful night in December 1999, outside Club New York in Manhattan. According to testimony, after stepping out of the Lincoln Navigator, which police chased down after a brief pursuit, Jennifer Lopez, Puffy's girlfriend, was frisked and then began walking away from the scene, telling officers she was headed to a limousine. Police then say they found a gun in the car. "The sergeant placed handcuffs on her and she stated 'It's not my gun.' We put her in our police car and proceeded to the station," Officer Mark Rowley told the packed court. Rowley was one of several police officers who testified about the pursuit and arrest of Combs, his protege Jamal "Shyne" Barrow, and bodyguard Anthony "Wolf" Jones. Barrow, 21, is char ged with attempted murder for allegedly shooting three people during a dispute at the club. Combs, 31, and Jones, 34, are charged with gun possession and bribery. They have pleaded innocent. According to the testimony of Sergeant Jack Konstantinidis, Combs's initial concern was his girlfriend, asking the officer, "What's happening with Jennifer Lopez?" "I told him she's being placed under arrest. He asked why. I said because we found a gun in the vehicle and since nobody's admitting to it, all of you are being arrested. He said, 'What if somebody admits to it?' I said then most likely they'll be charged with possession, but that's not my decision. It's up to the (District Attorney). He said 'Well, when we get back to the precinct, I'm going to let you know whose gun it is.' I said OK. He said 'deal.' " The four were processed and the three men were put in a holding cell. Lopez was placed elsewhere. About a half hour after the arrest, Wardel Fenderson, Combs's driver, told Officer Meyer that the gun was his. "I said 'no problem. We'll let the DA know'," Meyer testified. But ten hours later, when he was about to be fingerprinted, Fenderson changed his story. "He told me the gun was not his," Meyer testified. "He said he wasn't going to take the rap for anybody else. I told him no problem, I'll let the DA know." When court is not in session, Combs spends most of his time down the hallway, staring out the window, talking on his cell phone. While on trial, Combs appears not to be cutting back on work. This weekend, the rap entrepreneur is anticipating the launch of his menswear line, with a New York runway show exhibiting his "Sean John" fall collection set to take place. "This is NOT a celebrity line. It comes from my heart, my crew's heart. It's not just slapping my name on it. Celebrities can't do that and put together a successful line," Combs told the Associated Press. "I'm in this game to be with Dolce & Gabbana, Tom Ford, Donatella (Versace) -- the top. I'm not in it for just hip-hop fashion."
On Newsstands Now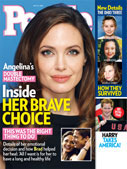 Angelina: Inside Her Brave Choice

New Details on the Ohio Three

Prince Harry Takes America!
Pick up your copy on newsstands
Click here for instant access to the Digital Magazine