Combs Held Gun: Second Witness
A woman who was shot in the face during a December 1999 nightclub brawl testified Monday that rap entrepreneur Sean "Puffy" Combs was holding a gun just before she was shot; she's the second witness to testify that Combs was wielding a gun, according to PEOPLE. In a dramatic testimony, Natania Reuben, a beauty salon owner, told the court that the instant after she was shot at Club New York in Manhattan, she fell to the ground and looked up. "Blood began pouring from my face," she said through her tears. "I looked up to the sky and said, 'Oh God, please don't take me. I'm not ready to go yet. I have to raise my kids.' " Reuben's sometimes contentious testimony was the main focus of Monday's proceedings in the trial related to the shooting. Combs, 31, is charged with illegal possession of a handgun and bribery. His bodyguard, Anthony "Wolf" Jones, also is being tried on a gun possession charge, and co-defendant Jamal "Shyne" Barrow is charged with attempted murder. Reuben told the prosecution that she had been at the club for about an hour when the melee began. "The people started to sway," she said. "People are falling back, leaning into one another. I didn't see who it was at first. Then as they got closer, I saw Mr. Combs, Ms. (Jennifer) Lopez, Mr. Barrow, and quite a few other people." Reuben, who has filed a $150 million civil suit against Combs, his two co-defendants, the club owner and promoter and others, then testified that Combs had a confrontation with someone who waved money in his face. That's when she said the situation got out of hand. "I saw Mr. Barrow, his right hand reach down . . . I then saw Mr. Combs pull out a black gun with his right hand. I turned back around facing them and then I saw two muzzle flashes, like bam! Bam! Mr. Barrow fired, then Puffy fired." Reuben was hit once in the face. Under cross-examination, Combs's attorney, Benjamin Brafman, charged that Reuben had told a friend in the hospital that she didn't know who shot her. She also denied going to an Atlanta club last November to see Combs and Barrow perform. "Why would I go there (when Puffy and Shyne were performing)?" Combs looked incredulous and shook his head in disgust. Brafman later tried to discredit Reuben by questioning her about how Puffy's coat was hanging the night of the shooting. She had said earlier that it hung off his shoulders, "Was it like this?" Brafman asked, his suit coat hanging off his elbows. "I can't say that because your coat and Mr. Combs's coat are not similar . . . your coat isn't as big as Puffy's. His coat was extremely large," she responded. Judge Solomon interrupted. "First of all," he said to Brafman," put your (coat) back on." The courtroom erupted into laughter.
On Newsstands Now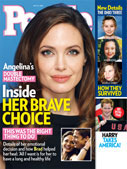 Angelina: Inside Her Brave Choice

New Details on the Ohio Three

Prince Harry Takes America!
Pick up your copy on newsstands
Click here for instant access to the Digital Magazine