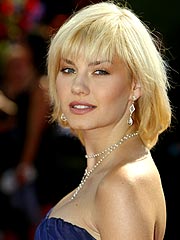 You have a little brother. What does he think about seeing you onscreen?
My brother is 11, and so he gets really involved. He's like, "I can't believe that they're doing that to you," and I go, "It didn't really happen. It's okay."
Will he be allowed to see Girl Next Door?
I don't know that answer. I think that my mom will make that judgment call maybe. The only one that I worry about is my grandmother. That's the only one and so far, she seems to be okay about it. She hasn't seen this, though.
You seem to be handling everything so calmly, even awards shows. Is it ever nerve-racking?
Yeah, it is very scary. It's the pressure of going, "All these people are going to ask me who I'm wearing and I know that I'm going to forget," and, "Is my makeup running?" It's always 100 degrees on those days.
And have you mastered a technique for not giving away the twists and turns on 24?
I know, and the worst is my mother. She's like, "I'm your mother. You wouldn't be here without me. You have to tell me." I'm pretty good. I give a little. I'm always like, "I've got some really good scenes coming up," but I won't spill the beans.
Finally, what do you find sexy?
Personality, people who are funny. If you can have a good time with someone, but also, someone who has their act together and has a good head on their shoulders is also very appealing because you could have the most beautiful person in the world and they can't form a sentence, they're not very attractive anymore.