The Apprentice
A phony boardroom and staged goodbyes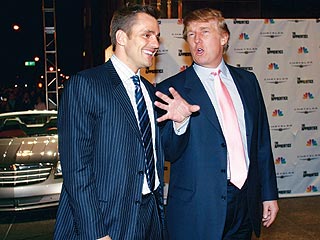 Call it a Trump l'oeil. The Donald's famous boardroom, from which the billionaire developer presided over the show's weekly firing sessions, was actually a specially built set. So was the spacious loft where the wannabe Apprentices cohabited and schemed. As for each firee's shellshocked walk out the front door and into a waiting taxi: All those exits were actually taped before the competition began last fall – which means somewhere there's footage of winner Bill Rancic taking the walk of shame.
As for those weekly challenges: contrary to appearances the contestants weren't completely on their own. For instance, when Rancic was entrusted with heading an important golf tournament for his final project, he wasn't exactly working without a net. "At the end of the day, you knew it was really Carolyn's butt on the line rather than Bill's," says contestant Amy Henry, referring to Carolyn Kepcher, one of Trump's on-show advisers and the COO of Trump National Golf Clubs. "So I think there were quite a few people that were making sure that tasks that needed to be done were being done."
And when things did go wrong . . . In at least one instance Heidi Bressler claims to have smelled something "fishy. I mean, losing a rock star?" says Bressler about rival Omarosa Manigault Stallworth's apparent gaffe in failing to keep track of Jessica Simpson's preconcert airport arrival in Atlantic City. "That just doesn't happen." (
Apprentice
producers had no comment.)
Other dramas seem a bit enhanced as well. The woman who sealed an apartment deal with team Protege in week 7 says she already had a deal with the landlord before the show ever arrived. And did that party planner really show up to rent a 90th-floor Trump penthouse just moments before the deadline? Yes, says Henry, "it was literally five minutes before the cutoff. They paid $40,800. That was the winning bid." But, she adds, "it wasn't the only bid. It looked like we didn't have other contracts. We had two other very lucrative offers."
Unseen deals aside, the Apprentices also had a lot of hidden baggage – literally. Losing teams were allowed to tote just one suitcase apiece to the boardroom. Once fired, they would return to the suite the following day – while the cast was out – to hurriedly collect the rest of their stuff with the help of the crew. Production people were seen throwing weeks' worth of belongings into garbage bags. "Troy [McClain] got a bra and slippers and a pair of my jeans," says Katrina Campins. "I'm missing so much stuff it's ridiculous."