The Bachelor
"Alcohol got the girls to open up"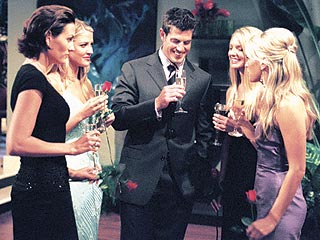 Watching the April 28 broadcast of
The Bachelor
with friends, Mandy Jeffreys couldn't believe her ears when she heard the promo for the next episode, in which she takes
Bachelor
Jesse Palmer home to meet her parents. "They talk about Jesse finding himself in 'pageant hell' at my parents' house," she said, referring to the trove of beauty-contest memorabilia seen adorning the family's house. In fact, says Jeffreys, "the producers asked my mother to bring some of my former pageant stuff down from the attic and have it displayed. When I got there with Jesse, I was shocked to find all of that – the trophies, the photos. I hadn't seen those things in years." (The producers decline to comment on the making of the show.) That's not the only bit of stage-managing that
The Bachelor'
s creators have done. For one thing, all outside distractions are eliminated. "There was no TV, no radio, no computers or cell phones, or books even," says Jesse's designated spy, Jenny Schiralli. "They wanted to encourage conversation." Producers have also been known to nudge romance along. "There has to be some continuity, so they set up scenes like me and Trista in the shower," says Jamie Blyth, who courted Trista Rehn on the first
Bachelorette.
"It wasn't like we said, 'Oh yeah, let's go take a shower.' " And an open bar helps set the mood. "Alcohol got the girls to open up," says Kelly Jo Kuharski, jilted by Bob Guiney in the last
Bachelor.
"There was a margarita machine and a keg in the house nonstop. Champagne. We could always get as much wine as we wanted. The producers would want us to play drinking games. It created drama. And we were so bored."
American Idol
Can anyone explain the voting?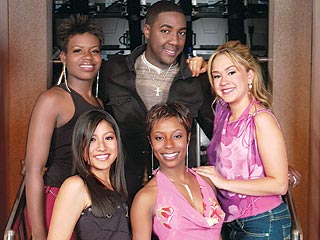 Despite the recent controversy regarding the ouster of judges' favorite Jennifer Hudson on April 21, producers of America's favorite talent show insist that everything is on the up-and-up with their voting system. "You can never assume that any contestant is safe," said co-executive producer Ken Warwick. "It's imperative that viewers vote for their favorite idol every week." Though Trenyce, a season 2 finalist, has speculated that the show toys with voting results, and chat rooms abound with frenzied theories about elimination conspiracies and racial bias, "every vote counts. Every contestant has the same chance," says Sandy King, a spokesperson for Telescope, the telemarketing firm that tabulates the viewers' votes and then phones the producers with the results around midnight every Tuesday. Not that
Idol
doesn't have its secrets. That final montage of clips, supposedly recapping each contestant's performance before the judges on Tuesday nights, is actually taken from an earlier dress rehearsal. "Doing a live show, we simply can't edit that fast," says co-executive producer Nigel Lythgoe. Nor can they seem to explain a mysterious transaction involving Nicole Tieri, a.k.a. Scooter Girl, during the auditions. Spurred on by the judges, she was seen giving away her namesake transportation to a stranger on the streets of New York. In fact, says Tieri, "I did not give it away. After the tape was done rolling, [
Idol
host] Ryan Seacrest said, 'Excuse me, sir, she needs the scooter back.'" That's not how a puzzled Seacrest remembers it. "She passed it off to that guy, and I turned around and went back to the audition room," he says. Adds producer Warwick: "I didn't know she got it back. Maybe it was a good-luck charm for her." Not lucky enough: Scooter Girl didn't make it to the next round.