The Newlyweds
Staged situations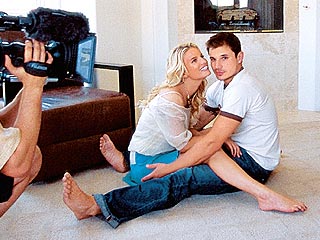 Jessica Simpson is eager to join husband Nick Lachey camping in the mountains until Nick mentions the B word. "There really are bears?" she asks. Pitch a tent? Forget it. Hiking? "I'm tired right now," says Jessica. "Maybe today is a drive-around day." In another episode, the couple go skiing – or at least Jessica manages to. Nick falls down, then angrily flings his poles to the ground. If the singers – now in their second wacky year of marriage – come off more as sitcom characters than cinema-verité subjects, some of the credit goes to Jessica's dad, executive producer Joe Simpson. "We know the kind of situations to put them in," he says. "For instance, Jessica is not an athlete. So we know that if we take her on a camping trip, we are going to get a good show." Similarly, he says, "we know that Nick can't ski. Jessica has been skiing since she was little. Nick will fall down the mountain, and Jessica will glide by."
The Simple Life
Milking the scene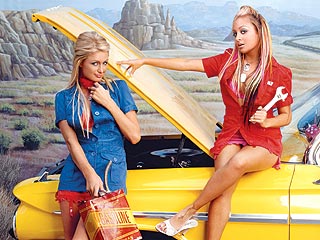 Nothing was as simple as it seemed on FOX's fish- out-of-Rodeo
Drive series. Take that scene where hotel heiress Paris Hilton and her material girlfriend Nicole Richie try to bottle cows' milk and make udder fools of themselves. "Bottling the milk? That's a no-no," says Danny Council, the dairy farmer who briefly employed the city slickers. "None of that meets health department standards. It was totally for the show." (The producers even had to search high and low for glass bottles, rarely used these days.) All the milk that wasn't already spilt had to be poured out afterward. At least Council got a fresh coat of paint on his barn for his troubles. The front of it anyway: "It was white, and the producers said white didn't photograph 'true,' so they painted it gray."
• By MICHAEL A. LIPTON and TOM GLIATTO. CYNTHIA WANG, BRENDA RODRIGUEZ, NATASHA STOYNOFF, ASHLEY WILLIAMS, VICKIE BANE, MONICA RIZZO, LIZA HAMM, STEVE BARNES, KELLY ROBERTS, SEAN DALY, TOM DUFFY, KATE KLISE, MARK DAGOSTINO and OLIVER JONES