In some ways, the message seemed to be: Don't hate them because they're becoming beautiful. For seven weeks, 16 women with eggshell egos had laid themselves bare on FOX's surprise hit,
The Swan
– allowing cameras to document the gruesome brow lifts, liposuctions, breast jobs, teeth bleaching and gum surgeries (and, yes, the "life-coaching" and therapy sessions) that would change their lives. Hirsute and despondent about her prominent nose, Cindy Ingle had confessed, "I see myself as a witch." A timid Belinda Bessant had been encouraged to pound a punching bag bearing a photo of her brutish boyfriends, and an unhappy Kristy Garza had been excoriated for cheating on her 1,200-calorie diet.
Along the way, the women faced off against one another, with only nine going on to the competition; the rest were sent home, aesthetically enhanced but without a shot at the crown. So on May 24, when the survivors were pitted against one another in a grand-finale pageant – vogueing down a runway in gowns, swimsuits and, yes, lingerie – it was clear that the road from homely to "smokin' " (in the words of host Amanda Byram) had not been easy. Sequestered in an apartment complex in Marina Del Rey, Calif., aspiring
Swans"
hadn't seen their husbands or children for four months. Allowed just three 10-minute phone calls each week, they were encouraged to "surrender to the process," in the words of
Swan
winner Rachel Love-Fraser, 27.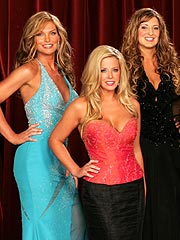 But just what kind of process was it? Even in the envelope-pushing world of reality TV,
The Swan'
s promise of helping plain Janes slice and dice their way to beauty set off cultural shock waves. Critics called the show "ghastly" and dubbed the contestants "Brides of Frankenstein"; feminists labeled
The Swan
misogynistic, and plastic surgeons worried over the image it lent their profession. Many viewers couldn't help wondering if these would-be
Swans
couldn't look just as good with a few trips to the gym, a makeup lesson and a nice set of highlights. "When
Extreme Makeover
began, there was still the sense on that show that cosmetic surgery was about the correction of radical defects – the kinds of things you got teased about as a child," says Susan Bordo, a professor of women's studies at the University of Kentucky and author of
Unbearable Weight,
which explores women's body-image issues. (Her area of expertise: TV makeover shows.) "Now we've moved to reasonable-looking people seeking surgery to be transformed into totally new selves. That's a whole different kettle of fish."
Swan
creator and executive producer Nely Galán shrugs off the criticism. "When I see a normal pageant like Miss USA, that's demoralizing because I can never aspire to that since I wasn't born beautiful," she says. "If I see Miss USA, I'm a short girl, I don't feel happy watching that. If I watch
The Swan
and I'm overweight and sitting at home and feeling like the pits, I'm inspired because anybody can be a
Swan
."