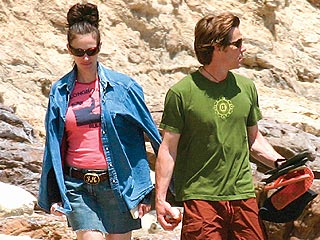 They felt less panic than frustration, no doubt, about the reaction of the tabloids to their news. After spending much of the past year issuing reports of marital trouble, the rumor mill lost no time speculating about the various methods Roberts used to help get pregnant: intensive yoga, giving up smoking and hair dye, hiring a personal herbalist, acupuncture treatments, fertility treatments and in-vitro fertilization. Roberts has a policy not to confirm or deny rumors. (But this much is true: She quit smoking four years ago and colored her hair dark brown as recently as last month for her role beside George Clooney and Brad Pitt in
Ocean's
.) "For me, it's a natural instinct to be indifferent to being famous," she recently said about ignoring gossip. "My job is to be an actress, not to be famous. So I refuse to expend any energy on it." However it happened, her friend says getting pregnant now is simply part of the plan: "When they got married, they said they wanted to have kids in a couple of years. So they are right on track."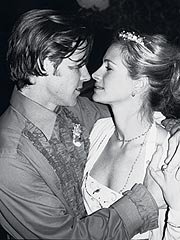 The couple, who met in 2000 while both were working on
The Mexican,
married over July 4th weekend in 2002, following the groom's divorce from his wife, Vera. (Roberts, meanwhile, remains good friends with her ex, Lyle Lovett, to whom she was married for 21 months until their 1995 split.) Since the nuptials at her home in Taos, N.Mex., Roberts and Moder have become the most un-Hollywood of Hollywood couples, preferring to walk their 10 dogs over appearing on a red carpet. "There's a real ease to my life," Roberts said in December. "It's such a joy being domestic. It's something I want and something that makes me very happy." Indeed, with her Oscar for 2000's
Erin Brockovich,
more than $2.5 billion in box office receipts and a salary of up to $25 million per picture, the actress said in March, "I just don't feel pressure to prove myself anymore."