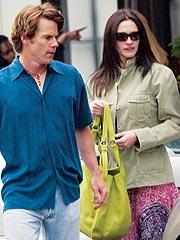 Or to put work first. While filming
Mona Lisa Smile
in late 2002, she felt funny about the movie's message that "it's okay for women to go off and have careers, but secretly I'm thinking, 'What time do we get out of here?' " What she really wanted to do, she told ENTERTAINMENT WEEKLY, was "stay home and cook dinner." Which is pretty much all she did for most of 2003. She vacationed with Moder in Italy and did press for
Smile.
But mostly she passed time doing yoga, drinking soy lattes and nesting, as she renovated their house in L.A., fixed up their apartment in Manhattan and made plans to build another home in Malibu.
Roberts has chosen New York City as the birthplace for her twins because, her friend says, "she feels like it's her hometown." While she shows no signs of giving up work – coincidentally, her character in
Ocean's Twelve
is pregnant, and Roberts was fitted for a fake pregnancy belly in January – but life at home is her priority. As she said in March, "I just want to be a good wife, a good family member, a good friend." And now, a good mom – a task Brokaw has no doubt she will master. "She is simply one of the smartest, funniest, most real people I've ever met," he says. "She's centered and wise and thoughtful. She understands what's important." In other words, says her pal Jerry Weintraub, "she'll make a wonderful mother."
• By Karen S. Schneider. Julie Jordan in Los Angeles, Natasha Stoynoff in Manhattan and Peter Mikelbank in Paris