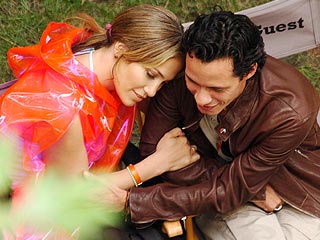 Lopez and Anthony – who share a love of the stage as well as a Puerto Rican heritage – dated in April 1999. A few months later she hooked up with Sean "Puffy" Combs. Their relationship lasted until 2001. Three months later, she was engaged to Cris Judd, one of her backup dancers. They wed in September 2001. By the following June, that marriage had floundered and Lopez was keeping company with Affleck, whom she met on the set of
Gigli,
which subsequently bombed when it was released last year.
Lopez's first marriage was to Ojani Noa. The pair split in 1998.
For his part, Affleck has struck up a new romance with a woman in Boston, where he has been spending much of the past two weeks. He was scheduled to arrive in Los Angeles this weekend.
In May 2000, Anthony married beauty queen Dayanara Torres in Las Vegas. Anthony and Torres split in July 2002, renewed their vows a few months later, and then split for good in October 2003.