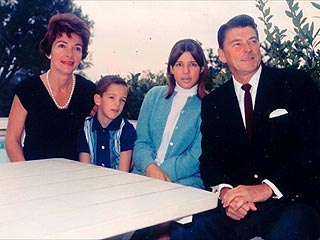 In the room next to my father's, my mother now sleeps in a new bed. The king-size bed they shared for so many years came to feel vast and empty to her, so she had it taken away and replaced by a queen-size bed. Less empty space across the mattress. Yet it's no relief from the loneliness of sleeping alone after 50 years of rolling over to the person you love. She still tiptoes across the floor if she gets up in the middle of the night; her heart forgets that the other side of the bed is empty. I remember the day the larger bed was replaced. I remember the mark on the carpet where the king-size bed once was. It seemed to say everything.
Alzheimer's is a long series of I-don't-knows. My father's doctor doesn't know how he has lived so long with this disease, especially after breaking his hip in January 2001. I think it's the tenacity of his soul – he just isn't ready to leave his reunited family. At a certain point in time, it might all come down to this – life is about learning how to die, how to let go and how to hold on to what is really important. One thing that was so startling about the TV movie that has gotten so much publicity is that it was based on years of our lives when my mother and I were often at war. The script made use of things I had written at that time, before I was able to put my rebelliousness and political stridency aside. After reading the script, she said to me, "I'm so sorry about the way you were portrayed." I think I answered, "Well, we all came off terribly." But the moment was not lost on me. A single sentence can be a bridge over currents of old history.
My father will leave, we all know that. There will be many people poring over his political career. There will be debates and discussions about his Presidency. But as a family, we will be elsewhere. We will walk past an empty room. We will be assaulted by the silence, the emptiness, and we will, I think, try hard to listen – to echoes, whispers, all those things that don't vanish when a person dies. That is, if you believe in such things. My father did. And that might be his most important legacy for us – what lives on in the heart.