The end was near. After watching as the spark slowly faded from his eyes and listening as his voice finally fell silent, the family of Ronald Reagan gathered at his house in Bel Air in the last days of May. The former President, said his doctors, now had pneumonia in addition to his Alzheimer's. A matter of days, they said, maybe a week.
On Sunday, May 30, Reagan's son Michael drove to his father's home. There, he and his family spent time with his dad, "just standing by his bedside and holding his hand. He was sleeping. That was pretty normal for the past year. He'd spent a good deal of his time sleeping." During a visit a few days later, Michael, 59, an L.A. radio talk show host, took his wife, Colleen, and their two children outside, where they formed a circle in the driveway. "We prayed over the house and over Dad. We asked that he would go in a peaceful way," he says.
On Saturday, June 5, another call came, this one urgent. Delayed by traffic, Michael arrived at the house and found the family – Nancy, Reagan's daughter Patti Davis, 51, who lives nearby, and son Ron, 46, who had flown in from vacation in Hawaii – in Nancy's bedroom sitting on the couch. His father had died minutes before. "The door was closed where Dad was," Michael says. "We hugged. We knew that he was with angels, where he always wanted to be, and then I went in and visited with my father. I kissed him on the forehead and I said the Our Father. He gave us all strength."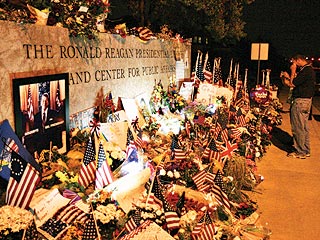 Bruce Murphy / Splash News
By the time Ronald Wilson Reagan, the longest-lived American President, made his final exit at age 93, he had given much indeed – not just to his family but to the nation that mourned him. Ordinary citizens by the thousands poured through the gates of the Ronald W. Reagan Presidential Library in Simi Valley, Calif. They waited in line for hours to view the casket of the leader many credit with ending the Cold War ("Mr. Gorbachev, tear down this wall!" he intoned within sight of the Berlin Wall in 1987) and ushering in a conservative, low-tax style of governance that would revolutionize American politics. Dignitaries from around the world, meanwhile, prepared to attend his funeral service on June 11 at the National Cathedral in Washington, D.C. "It didn't matter if you were the guy shining shoes or a head of state. He treated you with unfailing courtesy, warmth and humility," says his son Ron, a Seattle TV journalist. "For all his strength and directness, he was the most decent man I've ever known. And certainly the kindest."