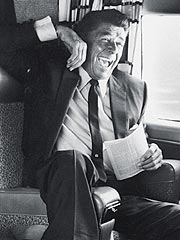 JOHN LOENGARD / TIME LIFE PICTURES / Getty
That a son would say such things of his father may not be surprising. Less expected, perhaps, were the sentiments of those who hadn't even known the man, like the small group who stood silently outside the Reagans' three-bedroom home as a black Cadillac hearse pulled slowly from the shaded driveway into the sunlit street. "I'm not so sure about his politics, but that's not what made him great," said Jeff Dashev, 60, a neighbor. "He inspired people. He made us all feel better about ourselves."
It was the key to his record popularity. The former Hollywood movie star, with boundless faith, helped restore pride and prosperity to a nation still smarting from the Watergate scandal and the Vietnam war. His story – now a legend, really – was built on a series of improbabilities: the child of an alcoholic father who became a figurehead for family values; the skinny, nearsighted kid who transformed into a strapping lifeguard and a handsome movie star; and a B-list actor who, finding his career washed up, resurrected himself by building one of the most powerful political careers of an era, first as a two-term governor of California in the '60s and '70s and then as President in 1981. The nation held its breath when he was nearly brought down by a would-be assassin less than three months after taking office – and cheered when he rebounded to robust health with impressive speed.
Beloved as he was, Reagan's Presidency was not without its dark side. Critics said he did little as the AIDS crisis exploded on his watch. "I think the world would have been better off if he had not been President," says AIDS activist Larry Kramer. The growing legions of homeless Americans in the 1980s were seen by many as the cruel reality of Reaganomics. And the President also played a role (never clearly defined) in the Iran-Contra arms-for-hostages scandal.
Still, Reagan was a fine one for restoring America's own can-do optimism, or comforting a nation in trauma, as he did in the wake of the 1986
Challenger
disaster. "He wasn't so much the great communicator," former French President François Mitterrand once said of Reagan, "as he was in communion with the American people."