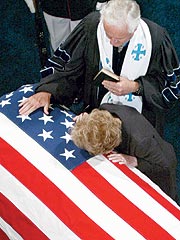 Along for the ride was second wife Nancy, the actress he met in 1949 when, at the height of the Red Scare, she discovered her name on a list of suspected Hollywood Communist sympathizers. (Reagan and his first wife, actress Jane Wyman, with whom he had two children, Maureen and Michael, had divorced the year before.) Nancy turned to Ronald, then president of the Screen Actors Guild, to help her clear her name. Turns out it was
another
Nancy Davis, and with business taken care of, the pleasure began. Married in 1952, theirs was a rare love story. "My parents have about as close a relationship as I've ever seen anyone have," Patti Davis once said. "They really sort of complete each other."
They became the ultimate political couple, sweeping into Washington in 1980 with a coterie of glamorous friends, fancy clothes and the drive to make a White House invite the hottest ticket in town – even if some critics groused over the $210,000 set of new china. "Ronald and Nancy always looked so divine together," says friend Betsy Bloomingdale. "It was another era, and they represented it." Supporters called Nancy fiercely protective of the President; detractors claimed she called the shots and got rid of staffers who crossed her.
When he left office in 1989, Reagan and Nancy headed west to their beloved California, there to live out a glorious retirement. But soon there were signs, quiet at first, that all was not well. In 1994, at Richard Nixon's funeral in Yorba Linda, Calif., "Reagan seemed a little bit out of it," says Gerald Ford's former White House photographer David Hume Kennerly. Ford later told associates, "Ron didn't recognize me or Betty."
Following consultations at the Mayo Clinic, in the fall of 1994 Reagan took pen to two gold-embossed pages of paper and, with the somber words "I now begin the journey that will lead me into the sunset of my life," announced to the nation that he had Alzheimer's. Among friends, however, Reagan had his own lighthearted way of spreading the news. Film producer A.C. Lyles, now 86, recalls the day that Reagan took him aside, saying, "I'm getting forgetful, aren't I? Well, A.C., here's a story: Two old men are having lunch. One says, 'Joe, I have Alzheimer's, but I met a doctor and he's great. You better go see him because you're getting the same thing.' Joe says, 'Sure, what's his name?' The first guy thought for a long time and said, 'What's that flower that has petals and thorns?' 'A rose,' Joe said. And the man hollered to his wife, '
Hey, Rose, what's the name of that doctor I'm going to?
' " "Ronnie always used humor," concludes Lyles, "and that was his way of telling me."