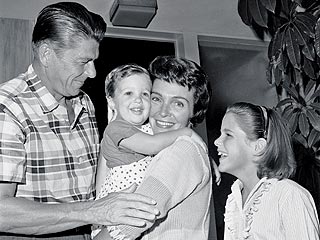 CBS Photo Archive / Getty
As the disease progressed, there was less and less to smile about. In time, Reagan could no longer recognize lifelong friends or even remember that he had once been President of the United States. He was unaware of his 50th wedding anniversary with Nancy and that, in 2001, as he lay recovering from hip surgery, his oldest daughter, Maureen, 60, was being treated for melanoma at the very same Santa Monica hospital. She would die several months later at her home near Sacramento.
Nor was he the only victim of his own illness. Nancy, his devoted companion for the past half century, seldom ventured far from the couple's house at 668 Saint Cloud Drive. She lunched with friends at the Hotel Bel-Air (speaking of her husband mostly in the past, discreetly refusing to talk about his condition) and spent her evenings watching TV or on the phone, exchanging recipes with friends. "She rarely left Los Angeles over the last several years," says Fred Ryan, a former aide. "Yes, she was caring for him, but I also think she didn't want to be away from him when the end came."
When the end was near, she was there, of course, still directing a staff of nurses and taking precious time to speak out in favor of embryonic stem cell research, a scientific approach that she feels may one day lead to a cure for Alzheimer's and other diseases. A doctor once looked on as Nancy gently eased her husband into bed after a brief walk, lifting his legs and helping him settle back onto a pillow. "When she had finished," wrote Michael Deaver in
Nancy: A Portrait of My Years with Nancy Reagan,
"Nancy looked at her Ronnie lying there alone, took off her shoes, and gently got into bed with him. She was putting her arms around him as the doctor quietly left the room."
The physical care was far from the hardest part, Nancy said. "The golden years are when you sit back, hopefully, and exchange memories, and that's the worst part about this disease," she told
60 Minutes
's Mike Wallace, a family friend, in 2002. "There's nobody to exchange memories with, and we had a lot of memories." Still, there were flashes of the old Nancy, the one whose irreverent laugh had bewitched her husband. Earlier this spring, comedian Jerry Lewis called to ask how she was holding up. "She'd say, 'I'm okay for a gal who's sitting in a house without her husband who's sitting six feet away,' " Lewis told
The Boston Globe.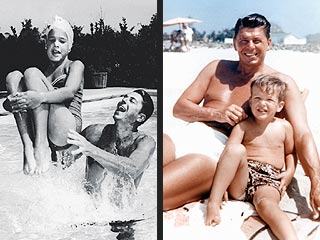 If there is a consolation for her – beyond the end of Ronald's suffering – it is the closeness she now enjoys with the children from whom she was once estranged. "Nancy and Patti Davis are close again," says Wallace. "All their issues are patched up. The same is true with Ron." Friends predict Nancy will continue her work on behalf of stem cell research. And they take comfort from the fact that her husband's love endured the harshest of trials. Says Michael Reagan: "At the end, when Dad opened his eyes and looked at her, I said, 'Think about the joy in my dad's heart. The last vision he had on earth was of you. The next vision he had was of God." Publicly, the Reagans will join in the national ritual to mark the passing of a leader; privately they know their path is less clear. "In a way my father was the glue, the focal point for the family," says Ron. "And even in his illness, we always used to say when we were there – a sort of in-joke from my childhood – 'Here we all are, gathered around old Dad again.' Now he's gone. But in important ways he's
not
gone. He'll be with all of us."
• By SUSAN SCHINDEHETTE. CHAMP CLARK, TOM CUNNEFF, VICKI SHEFF-CAHAN and FRANK SWERTLOW in Los Angeles, MACON MOREHOUSE in Washington, D.C., JULIET BUTLER in London and TOM DUFFY in New York City