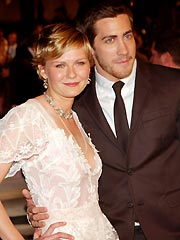 So what's the next film you're working on?
I'm doing this movie with Cameron Crowe next, called
Elizabethtown.
It's going really great.
What's it about?
It's a hard movie to talk about because we just started, and Cameron's very private, and I just know that to respect him I'm not really going to talk about it yet.
Okay, is it a drama or comedy?
It's not a drama. It's not a romantic comedy. It's just life, kind of. I don't know how to really say it, but you know Cameron's movies. It's like
Say Anything,
it's just more about people.
What about your dream directors: Have you talked with director Pedro Almodóvar about doing a movie with him?
No, I haven't. But I'd love to work with him.
It's been reported that you'd be willing to do nude scenes.
For him? Yeah, I would. He would be so tasteful. I just love
Talk to Her,
and I just thought it was beautiful.
Back to Spider-Man. You're signed on to play Mary Jane through the third movie. Do you think you'd like to keep going after that?
Three's enough. I think, don't wear out a good thing too much.