Jennifer Lopez and her husband of six weeks, singer Marc Anthony, have been almost stubborn about not sharing their new happiness with the public: Neither has, as yet, even
acknowledged
that they tied the knot in L.A. on June 5. At home, though, their romance even has a musical soundtrack. "He soothes her by grabbing a guitar and singing to her in Spanish," says a friend of the couple's. "She's smiling, giggling the whole time. She hums along. It's almost like background music while they are talking." Lopez, the friend adds, "is going full guns all the time, and she never takes a minute to stop and smell the roses. Marc allows her to take that minute."
Apparently, he'd like her to take much more than a minute. Having witnessed his wife's crazy, pedal-to-the-metal relationship with former fiancé Ben Affleck, "Marc wants nothing to do with the fiasco that was Jennifer's life one year ago," says a friend. This is J.Lo below the radar, trying to keep to a sweet, no-sensationalism diet at their home – "hibernating" with Anthony, says one source, at Lopez's mansion in Los Angeles. "They often curl up together," says the friend. "They're kind of snuggly." When they do go out, it's to a safe haven, like Lopez's Pasadena restaurant, Madre's, where diners recently saw them holding hands – "a firm grip," says an observer. "Jennifer looked radiant."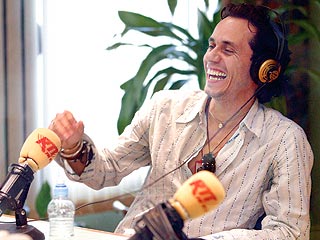 And Anthony? His sister Yolanda Santa Maria, a stay-at-home mother in Brooklyn, couldn't make the wedding, but when she caught up with Anthony in New York a few days later as he promoted his hit Spanish-language CD
Amar Sin Mentiras
(To Love Without Lies), "he didn't say a lot about Jennifer, and I didn't ask much," she says. "He just looked at me and said he was ecstatic. To me, as a sister, that is all I need to hear."
Since the wedding, speculation has abounded that Lopez, who'll turn 35 on July 24, is so into settling down that she's already pregnant. One source says Lopez recently broke the news to family members, who include her father, David, mother, Guadalupe, and sister Lynda, a TV entertainment reporter. The family, especially Guadalupe, would be delighted to welcome a grandchild, having already embraced Anthony, 35. "He speaks the same language as Guadalupe," a member of the Lopez camp says of Anthony, who like Lopez is of Puerto Rican descent. "Culturally they come from the same background. I don't think you can underestimate that."