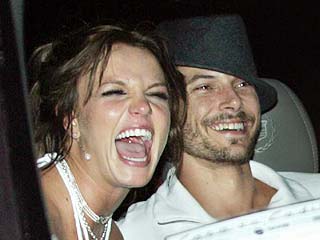 They did it their way, indeed – complete with a rose-scented ceremony, during which both the bride and groom cried, followed by a night of clubbing. The entire event "was all about them, which is exactly the way it should have been," says Spears's longtime assistant Felicia Culotta, who helped plan the wedding and served as a bridesmaid. "It was about Britney and Kevin and that's it." Adds Spears: "It was perfect."
It was also a 10-hanky affair, with the groom proving especially emotional throughout the evening. At the reception, "we were dancing and I remember her dad sitting in the doorway," says Federline, tearing up at the memory. "The way he was looking at me, he was just letting me know that everything was okay. I was worried, because you want your wife's father to be okay with you. But when I saw him, it was great."
So ecstatic are the pair that they are already discussing starting a family. "I want to be a young mom," says Spears. Asked whether she is pregnant now, she pauses for a long moment and looks intently into Federline's eyes. "No, not that I know of." But "I can see us as parents," she adds. "I can see myself as a mom. Next year at 23, I am so there."