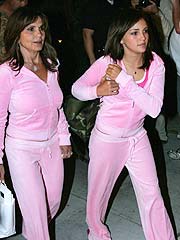 In the meantime, the couple are content to relive the memories of their wedding weekend, which kicked off Friday night with a bachelorette bash at the Fairmont Miramar Hotel. (Federline and the fellas opted for dinner at nearby Houston's restaurant.) The next day, the guys hit the links while Spears and her group dodged paparazzi during a trip to the Burke Williams spa. On the ride from the spa to the wedding locale – a private home in Studio City – Spears got a call from her soon-to-be-husband. "She said, 'I'm not supposed to talk to him before the wedding!' And we said, 'No, you're not supposed to see him,' " recalls Culotta. "She just died laughing. She said, 'I didn't want to jinx it!' Then they had one last conversation, and she was saying, 'No, don't cry; if you cry, I'm going to cry.' "
With even Spears's mom, Lynne, and the bridal party kept out of the loop, the impending wedding tested the bride's ability to stay mum – a challenge, considering she struggles just to keep her family's Christmas presents a surprise every year. When the word was finally out, "That was one of the first things she said to me: 'Mama, I kept a secret!' " recalls Lynne.
In fact, friends and relatives had flown in for what they were told was an engagement party. Upon arriving at the private home, they were handed invites that read "Surprise! It is with much love that we welcome you to our wedding ceremony tonight." The message didn't quite sink in with Spears's dad, Jamie. "My dad said, 'Why is everyone congratulating Kevin?' " recalls Spears's brother Bryan. "I said, 'Daddy, did you read the invitation?' He said yup. I said, 'You might want to read it again.' " Adds Lynne: "He went into shock. 'Oh my God,' he said,'I don't have my tuxedo!' "