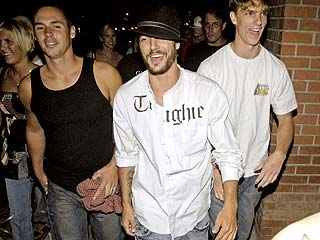 No problem: The couple had arranged for everyone's tuxes and gowns – which had been fitted earlier in anticipation of the October wedding – to be secretly delivered to the house. Upstairs the bridal party were readying themselves when Lynne walked in. "Britney was just smiling, waiting for my reaction," says Lynne. She said, 'Well, Mama, is it okay?' And I said, 'Of course, this is probably the smartest thing ever.' "
The couple's friends were stunned as well. "Their hands were shaking and they were crying," Spears says of her girlfriends. Recalls Federline: "[My friends] had no idea. Even the guy that was taking pictures said, 'You just got
Punk'd!
' And they still didn't get it! Finally I had to spell it out for them. When they did get it, they just lost it."
As for the newly brunette bride – she returned to her natural brown locks two days prior to the wedding because "there are so many blondes out there right now, I wanted to be a little different" – some of her behavior that day might have been a tip-off. "Britney was acting really weird Saturday – she was really nervous," recalls maid of honor Laura Lynne Covington. "I was like, 'Why are you so fidgety today?' And she was like, 'I don't know, I don't know.' " Just before the ceremony, "She was like, 'Are people supposed to cry on their wedding day? Even when they're saying their vows? Is it okay if I cry?' " says Covington. "When she put the veil on, it just all came together. She turned the corner and everyone just said, 'Awww.' " Says Lynne: "She looked so absolutely beautiful. She looked like an angel."