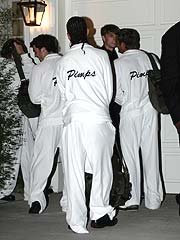 Unlike Spears's quickie Vegas wedding to childhood pal Jason Alexander in January – the marriage was annulled after 55 hours – the bride made sure her family and close friends were in attendance. Still, not everything went exactly as planned: Spears's sister Jamie Lynn, 13, burst into tears thinking that she had been the only one kept in the dark. But "when I hugged her and she put her dress on, she started feeling really good," says Spears. And Federline's 2-year-old daughter Kori (with ex-girlfriend Shar Jackson, 28, with whom he also has a 3-month-old son, Kaleb) was slated to serve as flower girl but ended up missing the wedding altogether. "[Shar, Kori and Kaleb] were doing the whole Disneyland thing, and I couldn't say, 'Look, [the kids] need to be here because I am getting married,'" says Federline. "So I just left things as they were."
During the emotional 15-minute ceremony, Britney and Kevin "just gazed into each other's eyes, and he kept touching her face," says Culotta. "As she was standing there, tears were falling. When her daddy lifted up her veil and kissed her on the cheek and shook hands with Kevin, it was so sweet. That started all the tears." Adds Lynne: "At the point when the ceremony said that your spouse is the one that makes you a better person, I just cried because I think it sort of hit me that she is a woman now. It hurts when they grow up."
Among the other ceremony highlights: When Covington handed the groom's platinum wedding band to Spears, "She dropped it and I was like, 'Oh no!' " recalls Covington. "The preacher was like, 'It's okay. It's a good sign!' " At one point during Federline's vows, "he said, 'I'm so proud to be your husband,' and everyone just smiled," says Covington. And when the couple shared their first married kiss, "I just wanted to holler, 'Get a room!' " jokes Culotta. "It was such a big kiss. It was like that was the second they were waiting for."