George Clooney called his three Oscar nominations "really nice." Steven Spielberg said his teeth started to itch. And
Hustle & Flow
's Terrence Howard was last seen somewhere "over the moon."
From enthusiastic to understated, Oscar nominees were all over the map in their reactions to Tuesday's nominations – especially Reese Witherspoon, who was on a Berlin movie set when reached for comment.
Here are some of the more colorful reactions – in alphabetical order:
•
Amy Adams, Supporting Actress, Junebug:
"I cannot fib. I guess I'm just not that cool, (but) I was watching (the announcements) on TV. ... It is a huge surprise. If I was in a huge studio film, you would know going into it that you might be positioned for this. But this was such a small film ... where we emphasize the bad and shrink the good ... it's just unbelievable.
•
George Clooney, Supporting Actor, Syriana, and Director and Co-Screenwriter, Good Night, And Good Luck:
"I was in bed with ("Good Night" co-writer and producer Grant Heslov) at that point. ... (turning serious) It was really nice. It was a fun morning. ... It means that we'll get another crack to do more films like that."
•
Matt Dillon, Supporting Actor, Crash:
"I didn't expect people to like this character, because he's a racist. I give all credit to (director) Paul Haggis."
•
Terrence Howard, Actor, Hustle & Flow:
"I'm still over the moon, and I ain't coming down."
•
Felicity Huffman, Actress, Transamerica:
"It's just the top. I've only had two dreams in my life – to marry Bill Macy and to win an Academy Award, something I gave up on after I didn't work for two years straight. I feel pretty swell."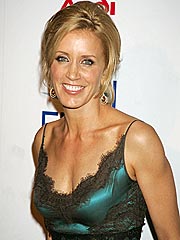 David Livingston / WENN / Landov
•
Catherine Keener, Supporting Actress, Capote:
"I am so happy to be part of such a great movie and am grateful to (director) Bennett Miller for including me."
•
Keira Knightley, Actress, Pride & Prejudice:
"We spent a glorious summer making this film in lovely England, with lovely, lovely director Joe Wright. It was great news to wake up to after a long night shoot on a pirate ship – four wonderful nominations! I'm so proud."
•
Heath Ledger, Actor, Brokeback Mountain:
It's a cool gang to be a part of. ... It helps when your partner (Michelle Williams) is nominated and you can roll over and give her a hug. We gave each other a little kiss and fell back asleep."
•
Bennett Miller, Director, Capote:
"I've felt on the outside my whole career. To get recognized and respected like this is a new dynamic for me. It resets the bar and makes me want to live up to it."
•
Nick Park, co-creator of Best Animated Feature contender Wallace & Gromit in The Curse of the Were-Rabbit,
on how the silent-but-expressive dog Gromit would react: "His eyes would be wide open, then he'd be rolling his eyes, eyebrows up. There should be a category for use of eyebrows in a leading role."
•
Joaquin Phoenix, Actor, Walk the Line:
"It's going to be a battle of friends up there. We're going to be happy no matter who wins."
•
James Schamus, Producer, Best Picture nominee Brokeback Mountain:
"Everybody says (Heath Ledger)'s so brave to take this role. To me, there are worse jobs than kissing Jake Gyllenhaal."
•
Steven Spielberg, Director, Munich:
"... so happy my teeth started to itch. This is a courageous year for filmmakers. They are saying 'If I never make another film, this one says what I think and feel.'"
•
Reese Witherspoon, Actress, Walk the Line:
"I'm so lucky. As an actress, I never thought I would get a part like this. I just feel so pleased to be considered ... But I can't get any of my family on the phone because it's too early there."