Nick Lachey breaks out on his own with his sophomore disc,
What's Left of Me,
which hits stores on Tuesday. PEOPLE looks at the former Newlywed's return to the music game, plus other events to watch for in the coming week:
SUNDAY, MAY 7:
Eva Longoria
will leave behind Wisteria Lane to take center stage at L.A.'s Shrine Auditorium as the host of the ALMA Awards, honoring Latino achievement in television, film and music. Among the nominees:
Jennifer Lopez, Shakira
and
Mariah Carey
are up for outstanding female musical performer and
Benicio Del Toro
for outstanding actor in a motion picture (for
Sin City
).
Marc Anthony
will also receive an achievement award for his musical contributions. The ALMA Awards will air on ABC on June 5.
MONDAY, MAY 8:
David Blaine
is testing his limits again. Since May 1, the daredevil has been immersed underwater in an eight-foot acrylic sphere at New York City's Lincoln Center, where he's been breathing through a tube. On Monday, he'll attempt to hold his breath underwater longer than any other human being – the current record is eight minutes and 58 seconds – on the live ABC special
David Blaine: Drowned Alive
(8 p.m. ET).
TUESDAY, May 9:
Fans will finally get to hear all of
Nick Lachey
's innermost musings when the former Newlywed releases his sophomore solo album,
What's Left of Me.
In his MTV special,
Nick Lachey: What's Left of Me,
the singer insisted that though the album's songs refer to his breakup with
Jessica Simpson,
"It's not in any way vindictive or an assault on her. In a lot of ways, it's more of an assault on me." You be the judge.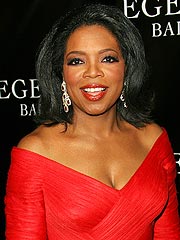 FRIDAY, MAY 12:
The ladies of
The View
will have a very special guest when, for the first time,
Oprah Winfrey
makes an appearance on the morning chatfest (ABC at 11 a.m. ET). Of course, the daytime diva has a good reason to schmooze with
Star, Joy, Elisabeth, Meredith and Barbara
– she'll be chatting up her May 15 ABC special,
Oprah Winfrey's Legends' Ball,
featuring footage from a slew of parties she hosted last year with an A-list guest list including
Tom Cruise, Katie Holmes, Mariah Carey, Tina Turner
and
Aretha Franklin.NEW THIS WEEK:
•
Movies (now in theaters):
Mission: Impossible III,
starring Tom Cruise and Ving Rhames;
Hoot,
starring Luke Wilson;
An American Haunting,
starring Sissy Spacek;
Down in the Valley,
starring Ed Norton and Evan Rachel Wood;
Art School Confidential,
starring John Malkovich;
The Proposition,
starring Guy Pearce and Emily Watson
•
Music (in stores Tuesday):
Red Hot Chili Peppers,
Stadium Arcadium
; Neil Young,
Living with War
; Paul Simon,
Surprise
; The Isley Brothers,
Baby Makin' Music
;
Mission: Impossible 3
soundtrack; Chris Isaak,
The Best of Chris Isaak
; Jagged Edge,
Jagged Edge
;
Harry on Broadway: Act 1,
Harry Connick Jr. and Kelli O'Hara
•
DVDs (in stores Tuesday):
Munich
;
The New World
;
Rumor Has It…
;
Nanny McPhee
;
Everybody Loves Raymond: The Complete Sixth Season
;
Scrubs: The Complete Second Season