In New York City on Saturday, Nicole Kidman hosted the 30th Anniversary gala for the organization UNIFEM. Her date? Keith Urban, who, she admits, is
not
just her boyfriend. "He's actually my fiancé," Kidman exclusively told PEOPLE on Monday. "I wouldn't be bringing my boyfriend."
The confirmation of the engagement ends months of speculation about the couple, who were first spotted together in July 2005. In November, Kidman was photographed wearing a ring on her wedding finger while walking arm-in-arm with Urban in Boston. At the time, Urban's rep told PEOPLE about a possible engagement, "Right now it's just a rumor."
But this time around Urban's rep has also confirmed the engagement to PEOPLE.
Added Kidman, "He's very good to me." So far, there's no word on a wedding date, though.
Kidman, who has been in New York's Hamptons region shooting an untitled film for director Noah Baumbach, is a goodwill ambassador for UNIFEM, the United Nations Development Fund for Women. The organization works to empower women around the world both politically and economically.
She signed on with UNIFEM earlier this year after learning about it from her mother, a nurse and educator in Australia. "My mother heard a program on the BBC about what they were doing in Cambodia, and she taped it," Kidman tells PEOPLE. "She knew I was looking for something that I can get behind. She told me about the work they were doing, they were giving choices to women. They were doing something rather than just saying, oh this is so dire."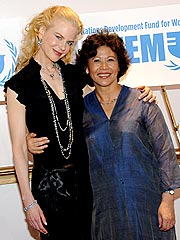 UNIFEM's achievements include organizing women voters in Liberia, who elected the first female president of an African country, Ellen Johnson Sirleaf, and linking Rwandan women basket weavers with Macy's, which is now selling their wares online and in New York.
The organization has also worked to combat violence against women. UNIFEM has helped get female genital mutilation banned in Egypt and other countries where it was common and legal; it has also changed laws in Peru and Costa Rica that allowed rapists to avoid prosecution by marrying their victims.
Kidman, who also supports a children's hospital in Sydney, will take her first field trip with UNIFEM, to India, this summer. "It's not about me," she tells PEOPLE. "It's about supporting the people, or helping get the voices heard, and putting money behind the people that are actually doing the hard work."