Magazine
This Week in People
On Newsstands Now:
Cover
Mariah Carey and Nick Cannon share exclusive photos of their intimate seaside wedding in the Bahamas

Brad Pitt, a pregnant Angelina Jolie and their brood enjoy some family time on the beach in the south of France

New Orleans's Neville Brothers play the Big Easy for the first time since Katrina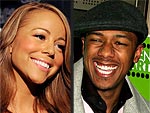 On People.com:
With just a few friends on hand (and four boxes of Maine lobster), surprise couple Mariah Carey and Nick Cannon tie the knot at a sunset ceremony on the beach in the Bahamas
Recent Issues

From superstars like Kate and Salma to hot newcomers (Gossip Girl!), get a peek at who made our annual issue!

They may not be old enough to vote, but they're making millions and selling out arenas. How these 15-and-under superstars are cashing in and living it up

A week after authorities in Texas removed 416 children from a polygamist compound, the women of FLDS anguish over their kids while ex-sect members allege midnight disappearances, laws against laughter and nonstop labor
Find out more
This is where you'll get added information about stories appearing in this week's issue of PEOPLE magazine.
Loving Teeba
For more information about how to help Teeba Furat Fadhil, the 6-year-old girl who was injured by a car bomb in Iraq and is now being treated in suburban Cleveland, contact:
Help Teeba Furat Fadhil Fund
National City Bank
8537 Mentor Ave.
Mentor, Ohio 44060
The Heart Gallery
For more information on the Heart Gallery of New Jersey, a not-for-profit organization dedicated to finding permanent homes for foster children through photographic gallery shows, please visit
www.heartgallerynj.org.
Anthony Edwards and Shoe4Africa
Actor Anthony Edwards will help collect thousands of shoes near New York's Central Park on behalf of Shoe4Africa, an organization that will provide footwear to residents of Kenya's Kibera slum.
Readers interested in donating any kind of old or new shoes (except high heels), can send them directly to:
Shoe4Africa
Unit 1004
1725 West Farms
The Bronx, NY 10460
Get PEOPLE Everywhere
Advertisement