Annette Funicello Dies at 70 After Long Battle with MS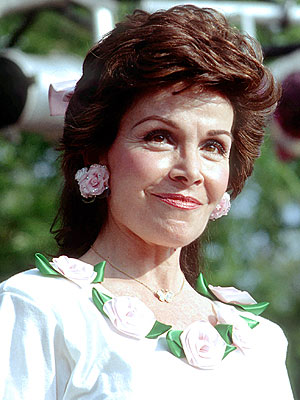 Annette Funicello, the ultimate Girl Next Door to a generation of Baby Boomers who first fell in love with her on the original 1955-59 incarnation of The Mickey Mouse Club, died Monday after a long battle with multiple sclerosis. She was 70.

Her family told Extra that Funicello passed away from complications of her illness, and they were by her side when she was taken off life support. Funicello had been in an MS coma for years.

"She's on her toes dancing in heaven. No more MS," Gina Gilardi, Funicello's daughter, tells Extra. "My brothers and I were there, holding her sweet hands when she left us."

With her brunette curls and expressive brown eyes, "Annette," as she was simply known, grew up on the nation's TV screens in her unquestioned role as the princess of Walt Disney's daily afternoon syndicated TV show. She embodied the image of wholesome Eisenhower Era youth both on screen and off, even when she graduated to the role of Frankie Avalon's beach-blanket buddy in the early '60s.



"You knew she was very attractive, very pretty and voluptuous, but Annette never flaunted it," Avalon, now 75, told PEOPLE in 1998. "She underplayed everything. She never tried to be sexy. People said to themselves, 'I could date that girl if I ever met her.' She wasn't untouchable."

Born Oct. 22, 1942, in Utica, N.Y., to auto-repair-shop owner Joseph Funicello and his homemaker wife Virginia, Annette was 4 when she moved to Southern California with her family. One spring day in 1955, Walt Disney, casting his new kids' TV program, happened to stop by the Burbank Starlite Bowl, where a dance school was giving its year-end recital of Swan Lake. And a star was born.

"Mr. Disney," as she always called him, guided Funicello's career for the next 10 years. During and even after leaving the Club, she starred for him on TV's Zorro and in such movies as 1959's The Shaggy Dog and 1961's Babes in Toyland.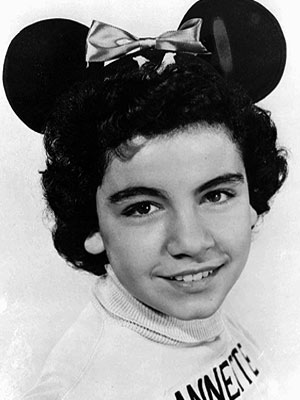 At Disney's urging, she also recorded a number of pop songs, several of which, such as "Tall Paul" and "Puppy Love" (which Paul Anka wrote for her), became hit singles, though Funicello was shy about her singing. "I remember being frightened every time I went into a recording studio," she recalled in 1992.

In 1963, Funicello's famous figure caught the shrewd eye of B-movie producer Samuel Z. Arkoff, who, with the cautious blessing of Walt – who ruled out her wearing a bikini – cast Annette opposite Avalon in Beach Party a low-budget hit that spawned a series of sandy sequels. In 1965 she married her agent, Jack Gilardi, with whom she had three children: Gina, Jack Jr. and Jason.




An Active Mother
After appearing in the 1968 rock 'n' roll movie Head with the band The Monkees, Funicello retired from the big screen to raise her family. "She was always there for carpools, Hot Dog Day and the PTA," daughter Gina told InStyle in 1994. "She was a normal mom." Gina and her brothers appeared with Funicello in commercials for Skippy peanut butter in the 1970s.

But Funicello neither lived happily ever after nor faded into the background. Her marriage ended in divorce in 1982; three years later she married racehorse breeder Glen Holt. She also re-ignited her career, reuniting with Avalon for 1987's retro romp Back to the Beach, her first film in nearly two decades. The success of the movie led to a 35-city concert tour with her costar.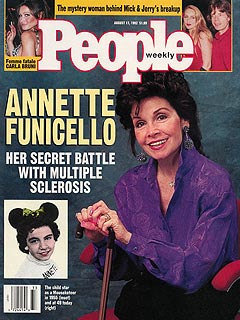 It was during the filming of Back to the Beach that Funicello experienced the first disturbing symptoms of multiple sclerosis, a chronic, often disabling disease that attacks the central nervous system. "We'd be shooting a scene on the sand, and when I'd try to get up, I couldn't balance," she told PEOPLE in 1992. "We'd laugh about it, and Frankie would say, 'Look at you, you look like you've had too much to drink.' And I'd say, 'Frankie, this is just the weirdest thing.' "




The Final Years
For several years after the diagnosis, only her immediate family knew of her illness, but when her equilibrium finally gave out in 1991, causing rumors of alcoholism, Funicello had no choice but to go public. Two years later Disney's Hyperion published her autobiography, A Dream Is a Wish Your Heart Makes, in which she detailed her battle against MS and her relentless search for a cure. A TV movie based on the story aired in October 1995, on Funicello's 53rd birthday, with the former Mouseketeer appearing in a few scenes playing her contemporary self.

No longer able to read or write and speaking only with great difficulty, she spent her final years mostly confined to a wheelchair, specially designed by her husband with a seat from a harness-racing sulky. Her home for the past 40 years was a smoky-blue ranch house in Encino, Calif., with frilly, white wrought iron fencing that she called "my good-luck house."

In her autobiography, Funicello wrote, "It's funny, but sometimes when I feel discouraged or have a problem I can't work out, I find myself thinking, 'If only Mr. Disney were here, he would know what to do.' "

Survivors include her husband, daughter Gina, and sons Jack Jr., and Jason. Donations in her honor can be sent to the Annette Funicello Research Fund for Neurological Disorders.

• Reporting by MEREDITH MURRAY and CHARLES WINECOFF



Intro to Beach Blanket Bingo




Mickey Mouse Club with Annette Funicello - Davy Crockett




The Beach Boys & Annette Funicello




Annette on Her Sound