Curtis Stone's Romantic Mother's Day Brunch Menu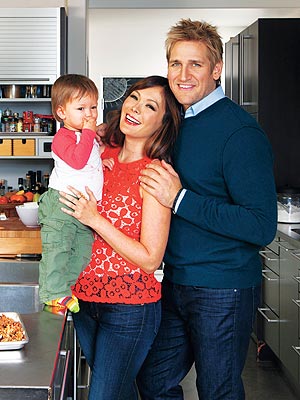 "Becoming a dad has changed me as a chef in so many ways," proud papa Curtis Stone tells PEOPLE. Puréeing veggies for his son, 18-month-old Hudson, the celeb chef says he's really realized "what incredible stuff mother nature gives us to work with."

So it's those fresh and delicious ingredients – plus a few savory spices – that he plans to use while cooking for fiancée Lindsay Price this Mother's Day, Sunday, May 12. Want to steal his ideas (we promise we won't tell!)? Read on for five fabulous brunch recipes.


Mango-Pineapple Smoothie
Serves 6
• 1 ripe mango, peeled, pitted and coarsely cubed
• ¼ fresh pineapple, peeled, cored and coarsely cubed
• 1 cup fresh orange juice
• 3 cups ice cubes
• lime slices for garnish

1. In a blender, combine the mangoes, pineapples, orange juice and ice cubes and blend until smooth and frothy. (If your blender is not large enough to hold all the ingredients, blend in two batches.)
2. Pour the smoothie into six glasses. Garnish with lime slices and serve immediately.

Next: Potato and Bacon Frittata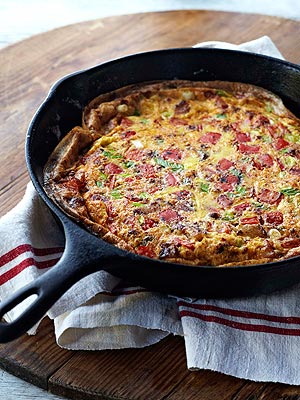 Potato and Bacon Frittata
Serves 4
• 5 oz. sliced bacon, cut into ½-in. pieces
• 1 small yellow onion, finely chopped
• 1 red bell pepper, cored, seeded and cut into ½-in. pieces
• 2 scallions (white and green parts), sliced into ½-in.-wide pieces
• 2 garlic cloves, finely chopped
• 1 tsp. chopped fresh thyme
• 2 medium baking potatoes, such as russets (7 ounces each), peeled
• 12 large eggs
• 1 ½ tsp. kosher salt
• ¾ tsp. sweet smoked paprika


1. Preheat the oven to 400 degrees F.
2. Heat a 12-in. cast-iron skillet or ovenproof nonstick pan over medium heat. Add the bacon and cook, stirring occasionally, for about 5 minutes, or until crisp and golden. Using a slotted spoon, transfer the bacon to a medium bowl. Add the onions, bell peppers, scallions, garlic, and thyme to the drippings in the skillet and cook, stirring often, for about 3 minutes, or until the onions are tender. Using a slotted spoon, transfer the vegetable mixture to the bowl with the bacon, leaving the pan drippings in the skillet.
3. Meanwhile, grate the potatoes on the large holes of a box grater.
4. Increase the heat under the pan to medium-high, add the potatoes, and stir to coat with the drippings. Press down the potatoes with a metal spatula and cook, without stirring, for about 5 minutes, or until the bottom is lightly browned. Scatter the bacon-vegetable mixture over the potatoes.
5. In a large bowl, whisk the eggs, salt and paprika together just until combined. Pour over the vegetables and bacon. Transfer the pan to the oven and bake for about 25 minutes, or until the frittata is puffed and golden.
6. Loosen the edges of the frittata with a silicone spatula and gently slide it onto a large serving plate. Cut into 4 wedges and serve.

Next: Asian Crab Cakes with Mango Chutney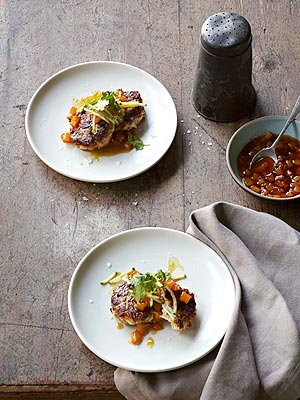 Asian Crab Cakes with Mango Chutney
Serves 6
Mango Chutney
• ½ cup sugar
• 1 mango, pitted, peeled and cut into ¼-in. dice
• ½ cup unseasoned rice wine vinegar
• 2 Tbsp. fresh lime juice
• kosher salt

Crab Cakes
• ½ cup mayonnaise
• 1 large egg
• 2 Tbsp. Thai or Vietnamese fish sauce
• 1 Tbsp. peeled and minced fresh ginger
• 1 Tbsp. finely chopped fresh cilantro
• 1 tsp. toasted sesame oil
• 1 to 2 tsp. seeded and finely chopped red jalapeño pepper
• ½ tsp. kosher salt
• Finely grated zest of 1 lime
• ¼ cup finely chopped green onions, white and green parts
• 1 lb. jumbo lump crabmeat, picked over for cartilage and shells, well drained
• 1½ cups panko (Japanese bread crumbs)
• 6 Tbsp. canola oil
• 4 Tbsp. (½ stick) unsalted butter
• ½ English cucumber, sliced into thin rounds and then into matchstick-size strips
• fresh cilantro sprigs, for garnish

1. To make the chutney: Heat a medium heavy saucepan over medium heat for 2 minutes. Add the sugar and cook without stirring, tilting the pan as needed so that the sugar cooks evenly, for about 5 minutes, or until it melts into an amber caramel. Do not stir or the caramel will crystallize. Remove from the heat and stir in the mango (the caramel will seize), then the rice vinegar and lime juice. Return to medium heat and stir constantly for about 5 minutes, or until the mango is translucent and the caramel is dissolved and syrupy. Transfer to a bowl and let cool. Season with salt.
2. To prepare the crab cakes: In a large bowl, whisk the mayonnaise, egg, fish sauce, ginger, cilantro, sesame oil, jalapeños, salt, and lime zest together, then whisk in the green onions. Add the crabmeat and stir to coat, coarsely break­ing apart the crabmeat, leaving small whole chunks in the mixture. Fold in the panko. Cover and refrigerate the crab mixture for 30 minutes so that the mixture is easier to form.
3. Using about ½ cup of the crab mixture for each cake, shape into one-dozen ¾-in.-thick crab cakes and place on a baking sheet.
4. To cook the crab cakes: Preheat the oven to 200 degrees F. Line a baking sheet with paper towels. Heat a large nonstick sauté pan over medium-high heat. Add 3 Tbsp. of the oil and 2 tsp. of the butter and heat until hot but not smoking. Working in two batches, fry six crab cakes for about two minutes on each side, or until crisp and golden, adjusting the heat as needed to brown evenly without scorching. Transfer to the baking sheet and keep warm in the oven. Wipe out the skillet with paper towels and repeat with the remaining 3 Tbsp. canola oil, 2 tsp. butter, and six crab cakes.
5. To serve, place two crab cakes on each of six plates. Spoon some of the mango chutney over and alongside the crab cakes. Top each with the cucumber and garnish with the cilantro sprigs and sea salt.

Next: Seared Ham Steak and Eggs with Smashed Potatoes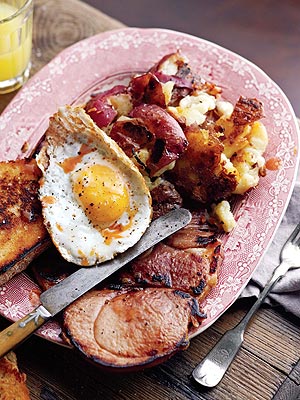 Seared Ham Steak and Eggs with Smashed Potatoes and Sourdough Toast
Serves 4
• 12 small red-skinned potatoes, scrubbed
• 6 Tbsp. salted butter, 3 Tbsp. softened
• One 1¼- to 1½-lb. bone-in smoked ham steak (about ¾-in. thick), patted dry
• kosher salt
• 2 Tbsp., plus 2 tsp., olive oil
• 4 ¼-in.-thick slices sourdough bread
• nonstick cooking spray
• 8 large eggs
• Freshly ground black pepper

1. Preheat the oven to 200 degrees F.
2. Put the potatoes in a medium saucepan, add enough cold salted water to cover, and bring to a boil over high heat. Reduce the heat to medium and cook for about 12 minutes, or until the potatoes are tender when pierced with the tip of a small sharp knife. Drain and transfer to a cutting board. Gently press on the potatoes with a metal spatula or the bottom of a small pan to crack them open but keep them mostly intact. Let cool.
3. Heat a large heavy nonstick skillet over medium-high heat. Melt 1 Tbsp. of the butter in the pan, then add the ham and cook for about three minutes per side, or until it is heated through and beginning to caramelize. Transfer the ham to a heatproof platter, tent with foil and keep warm in the oven.
4. Return the skillet to medium-high heat. Add 2 Tbsp. of the butter and the olive oil and swirl to coat the cooking surface. Add the potatoes, sprinkle with salt and cook, turning halfway through cooking, for about 3 minutes per side, or until golden brown. Transfer the potatoes to the platter with the ham and return to the oven to keep warm.
5. Spread the remaining 3 Tbsp. butter over one side of the bread slices. Place the bread buttered side up on a broiler pan in a hot toaster oven and broil for about three minutes, or until the tops are toasted golden. (If you don't have a toaster oven, use a broiler.)
6. Meanwhile, heat a large heavy nonstick skillet over medium heat. Spray the pan with nonstick cooking spray. Crack 4 eggs into the pan and season them with salt and pepper. Cover and cook for about 2 minutes, or until the whites are set and the yolks have thickened slightly. Transfer the eggs to a platter and repeat with the remaining eggs.
7. Serve the eggs hot, with the ham, potatoes, and toast.

Next: Seared Scallops and Peas with Bacon and Mint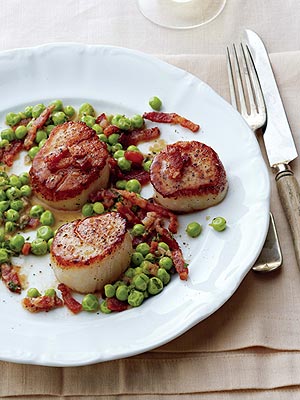 Seared Scallops and Peas with Bacon and Mint
Serves 4
• 2½ cups shelled fresh peas (from 2 lbs. peas in the pod)
• 3 slices thick-sliced bacon, cut crosswise into ¼-in.-wide strips
• ½ cup coarsely chopped shallots
• 2 Tbsp. coarsely chopped fresh mint
• kosher salt and freshly ground black pepper
• 12 large sea scallops, tough-side muscle removed and patted dry
• 2 Tbsp. olive oil

1. Bring a large saucepan of salted water to a boil over high heat. Add the peas and cook for about two minutes, or just until they are bright green and tender. Drain and transfer the peas to a bowl of ice water to cool. Drain well.
2. Heat a large heavy skillet over medium-high heat. Add the bacon and cook, stirring occasionally, for about five minutes, or until golden and crisp. Using a slotted spoon, transfer the bacon to paper towels to drain. Pour off all but a thin layer of fat from the skillet.
3. Add the shallots to the skillet and cook, stirring often, for about two minutes, or until softened. Add the peas and cook, stirring often, for about 3 minutes, or until they are heated through. Stir in the bacon and mint. Season to taste with salt and pepper. Keep warm over very low heat.
4. Meanwhile, season the scallops with salt and pepper. Heat another large heavy skillet over high heat until it is very hot. Add the olive oil, then add the scallops and cook for about two minutes, or until the underside is golden brown. Turn the scallops and cook for about two minutes more, or until the other side is golden brown but the scallops are still translucent when pierced in the center with the tip of a small knife. Transfer the scallops to paper towels to drain briefly.
5. Divide the pea mixture and scallops among four dinner plates and serve.

All recipes adapted from What's For Dinner? Delicious Recipes for a Busy Life, Ballantine Books, 2013