Prince William Leaves the Hospital Where Pregnant Kate Is Being Treated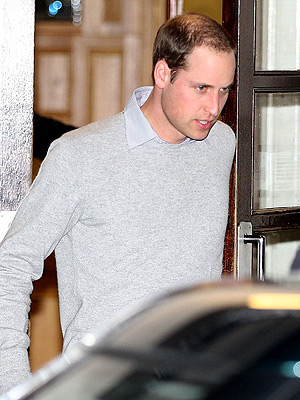 Following the announcement of an upcoming addition to the royal family, Prince William was photographed leaving the King Edward VII Hospital in Central London where a pregnant Kate was admitted for acute morning sickness on Monday.

Kate – who is in the "very early stages" of her pregnancy, according to the Palace – has been diagnosed with hyperemesis gravidarum, characterized by severe and persistent nausea and vomiting during pregnancy.

Wearing a grey sweater, William is seen exiting the hospital and heading toward a waiting vehicle.

While a source at St. James's Palace tells PEOPLE that the couple decided to "be open" about Kate's pregnancy because she was admitted to the hospital, Kate, 30, and William, 30, "aren't going into detail about the pregnancy itself."



The Palace announced the Duchess's pregnancy earlier Monday in a statement. "Their Royal Highnesses The Duke and Duchess of Cambridge are very pleased to announce that The Duchess of Cambridge is expecting a baby," it said. "The Queen, The Duke of Edinburgh, The Prince of Wales, The Duchess of Cornwall and Prince Harry and members of both families are delighted with the news."

Later on Monday, Prime Minister David Cameron congratulated the couple, saying "I'm delighted by the news that the Duke and Duchess of Cambridge are expecting a baby. They will make wonderful parents."