Kate Waits It Out at Her Parents' House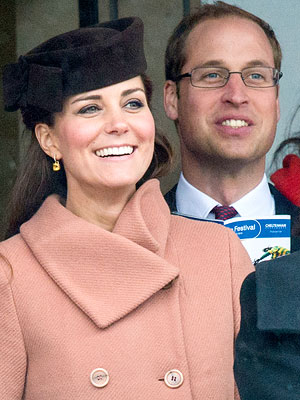 The world may be awaiting the tiny patter of royal baby feet, but when it comes to the mother-to-be, Kate is spending her time before going to the hospital with her parents at their home in Bucklebury, where an uncharacteristic summer heat wave has pushed temperatures into the high 80s.

Meanwhile, at St. Mary's Hospital, London, it's business as usual. Sort of.

With the staff reminded to remain professional, Lyza Marie Felicia, 25, a radiologist's assistant in the Lindo Wing where Kate is due to have her baby, told PEOPLE: "There is really tight security now on that ward. We have to sign our names in as we come into the ward and when we leave."

Like the others she works with, Felicia was required to sign a confidentiality agreement. "I asked security two days ago if Kate had arrived," she said, and "he could only tell me that she hadn't arrived."

In spite of the restriction on what she might say, Felicia cannot contain her excitement about the impending royal birth.

"Every tea break I will ask around, 'Is she here yet?' " she said. "It's been the topic of the day for a week now. But we know it's a royal baby, so it's a really big deal and everything has to be really private."


The Wing Is Spruced Up
Hospital porter Mohamed Bjell, 27, who transports patients to the Lindo wing, told PEOPLE that his employers "haven't asked us to change much of our daily work. She has been coming here for her scans, etcetera. The whole team have been really excited. Some people are hoping to take pictures with her and the baby."

The management has been taking Kate and William's arrival very seriously and, according to Bjell, staff members "are making it really special for her."

"They have been cleaning the floor inside and outside of the ward. They've re-painted."

Summing up the hospital atmosphere, he said, "People are excited and waiting." They've also putting their money where their mouths are.

"I've been betting on potential names for the baby and whether it's a girl or boy," said Bjell. "I put down 20 pounds and I may stand to win 200. Lots of people have put a lot more than that. Someone put on thousands."




Kate 'Will Be Well Looked After'
Saturday the contingent of those waiting outside the hospital included Ted Hutt, 78, from Cambridge, who has been camped on a bench covered in Union Jack flags for a number of days. His outfit also matches his bench.

Dressed head to toe in Union Jack attire, Hutt told PEOPLE: "I bought a pink and a blue 'congratulations' card, and I have filled them all in. I just need to fill their name in."

Dawn Robertson, 58, who had her own three children at St. Mary's, is confident that it's the best place for the Duke and Duchess and their newborn.

"Kate will be well looked after," she said. "They were really accommodating and always asking if you were okay and comfortable."

• Additional reporting by PHIL BOUCHER