Tuesday November 09, 2010 12:00 PM EST
Shiri Appleby's Bring Your Own Recipe Party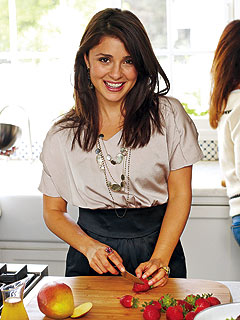 by BLAINE ZUCKERMAN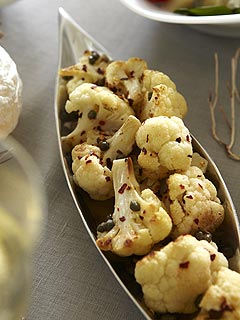 Spicy Roasted Cauliflower
Serves 6 as a side dish
• ½ cup olive oil, plus 1 tablespoon to grease roasting pan
• 2 heads of cauliflower, trimmed into florets (about 12 cups florets)
• 2 teaspoons kosher salt
• ½ cup drained capers
• 1½ teaspoons red pepper flakes
• ½ cup finely grated Parmigiano-Reggiano cheese
1. Preheat oven to 450ºF. Grease roasting pan with 1 tablespoon of olive oil and set aside.
2. Place the cauliflower florets in a large bowl and toss with ½ cup olive oil and salt. 3. Transfer to pan and roast until deep golden brown, about 25 to 35 minutes, stirring the cauliflower midway through cooking.
4. Remove the cauliflower from the oven and sprinkle with the capers and red pepper flakes, tossing together.
5. Transfer to a serving dish, sprinkle with cheese and serve.
NEXT: Strawberry-Mango Mesculun Salad>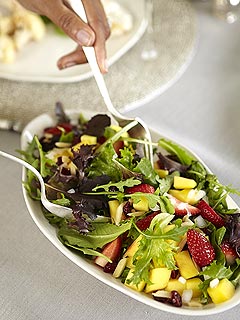 Strawberry-Mango Mesclun Salad
Makes 6 to 8 servings
• ½ cup sugar
• ¾ cup canola or vegetable oil
• ½ cup balsamic vinegar
• 1 tsp. salt
• 8 cups mesclun or gourmet mixed salad greens
• 2 cups sweetened dried cranberries (cranraisins)
• 8 oz. strawberries, quartered
• 1 large mango, peeled, pitted and cubed
• ½ cup chopped onion
• 1 cup slivered almonds
1. Combine sugar, oil, vinegar and salt in a jar. Cover tightly and shake vigorously.
2. Combine greens, cranberries, strawberries, mango and onion in a large bowl, tossing well. To serve, toss with enough dressing to coat. Sprinkle with almonds.