Shiri Appleby's Bring Your Own Recipe Party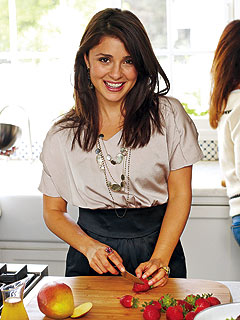 Shiri Appleby's dinner parties are interactive events. "Cooking is like grown-up arts and crafts," explains the star of CW's Life Unexpected. "It's a happy activity and a real bonding experience."

So whenever the actress finds herself back home in L.A. (the series films in Vancouver), she gathers a few friends for festive dinner parties, where the real fun takes place before sitting down at the table. "Everyone brings a different recipe and we make one big meal together," says Appleby, 31.

"As the hostess, you're kind of the director of the evening," says the actress. And once everything is cooked, she rolls out the red carpet for finished dishes. Says Appleby: "You put some music on, you have some wine, and it feels like a party!"




Menu:
• Fluke with Tarragon Vinaigrette and Grape Salad (see below)
• Spicy Roasted Cauliflower
• Strawberry-Mango Mesclun Salad


Fluke with Tarragon Vinaigrette and Grape Salad
Serves 4

For the vinaigrette
• 2 tbsp. white wine vinegar
• 2 tbsp. grapeseed or canola oil
• 1 ½ tbsp. extra-virgin olive oil
• ½ small shallot, minced
• 1 tbsp. finely chopped fresh tarragon
• 1 ½ tsp. finely chopped fresh thyme
• 1 ½ tsp. grainy mustard
• Juice of ½ lemon
• 1 ½ tsp. sugar
• ¼ tsp. kosher salt

For the salad
• 1 tsp. finely chopped fresh chervil
• ¼ tsp. finely chopped fresh chives, plush a few sprigs for garnish
• ½ tsp. fresh lemon juice
• ¼ tsp. olive oil
• 1 cup halved black or red seedless grapes

• ¼ cup grapeseed or canola oil
• 4 6-ounce fluke fillets
• 1 ½ tsp. kosher salt

1. Whisk all of the ingredients in a small bowl and set aside.
2. To make the salad, whisk the chervil, chives, lemon juice and olive oil together in a medium bowl. Add the grapes and gently toss to coat. Divide among four plates and set aside.
3. Heat 2 tablespoons of the oil in a large nonstick skillet over medium-high heat. Sprinkle the fluke fillets with the salt. Add 2 fluke fillets and sear until golden brown, 3 to 5 minutes (less for thinner fillets, longer for thicker ones). Use a fish spatula to turn over and sear the other side until browned, another 2 to 4 minutes. Transfer the fish to a plate and repeat with the remaining fillets, adding more oil as needed. Drizzle each fillet with some vinaigrette and serve.

NEXT: Spicy Roasted Cauliflower >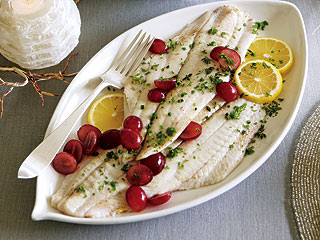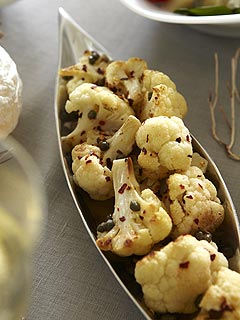 Spicy Roasted Cauliflower
Serves 6 as a side dish

• ½ cup olive oil, plus 1 tablespoon to grease roasting pan
• 2 heads of cauliflower, trimmed into florets (about 12 cups florets)
• 2 teaspoons kosher salt
• ½ cup drained capers
• 1½ teaspoons red pepper flakes
• ½ cup finely grated Parmigiano-Reggiano cheese

1. Preheat oven to 450ºF. Grease roasting pan with 1 tablespoon of olive oil and set aside.
2. Place the cauliflower florets in a large bowl and toss with ½ cup olive oil and salt. 3. Transfer to pan and roast until deep golden brown, about 25 to 35 minutes, stirring the cauliflower midway through cooking.
4. Remove the cauliflower from the oven and sprinkle with the capers and red pepper flakes, tossing together.
5. Transfer to a serving dish, sprinkle with cheese and serve.

NEXT: Strawberry-Mango Mesculun Salad>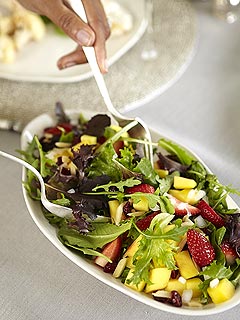 Strawberry-Mango Mesclun Salad
Makes 6 to 8 servings

• ½ cup sugar
• ¾ cup canola or vegetable oil
• ½ cup balsamic vinegar
• 1 tsp. salt
• 8 cups mesclun or gourmet mixed salad greens
• 2 cups sweetened dried cranberries (cranraisins)
• 8 oz. strawberries, quartered
• 1 large mango, peeled, pitted and cubed
• ½ cup chopped onion
• 1 cup slivered almonds

1. Combine sugar, oil, vinegar and salt in a jar. Cover tightly and shake vigorously.
2. Combine greens, cranberries, strawberries, mango and onion in a large bowl, tossing well. To serve, toss with enough dressing to coat. Sprinkle with almonds.