Downtown Cookie Co.'s Fruit Cake Cookies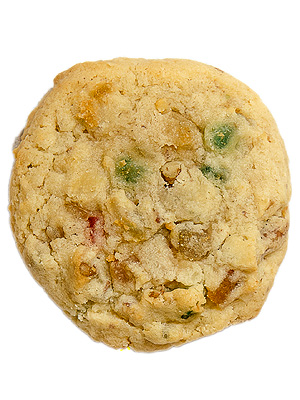 Cherished traditions fuel this time of year, but for New York City baker Dan Guerrera, they're part of his way of life year-round.

Take the chocolate chip cookie at Downtown Cookie Co., which Guerrera opened in 2008: the recipe was passed down from Guerrera's grandmother.

Being a traditional guy, Guerrera introduced a staple of the season, fruit cake, to his lineup of holiday flavors, which also include chocolate mint white chip and toffee.

Why wrestle with that infamous dessert of December? "Everyone hates the taste of fruit cake," Guerrera says, "but the tradition of fruit cake is what keeps everyone putting them on tables."

"The fruit cake cookie is our gift to the world," he adds, "saving people from having to go with the other kind that no one wants to eat."

Once you make the dough, bake the cookies right away or refrigerate the dough, which will keep for several days in the fridge. And once you've made the cookies, keep them around for weeks by stashing a few in the freezer. Or, you can always order a box of the shop's holiday flavors instead.


Fruit Cake Cookie
Makes 18 cookies
• 1 cup butter (two sticks)
• 3/4 cup brown sugar
• 3/4 cup white sugar
• 2 eggs
• 1 tsp vanilla
• 2 1/2 cup flour
• 1/4 teaspoon baking powder
• 1/4 teaspoon salt
• 1/4 teaspoon cinnamon
• 1 1/2 cup chopped candied fruit
• 1 cup of pecan halves


1. Mix flour, baking powder, salt, and cinnamon in a bowl and set aside.
2. Cream the butter and sugars. Add eggs and vanilla extract and beat well. Add the dry ingredients until combined. Mix in fruit and nuts.
3. Drop two ounce cookies onto ungreased baking sheet and bake in 350 degree oven for approximately ten minutes. (Baking time may vary depending on oven. For smaller cookies adjust bake time accordingly.)
4. Remove from oven, let cool and enjoy!