Hedy Goldsmith's Junk In Da Trunk Cookies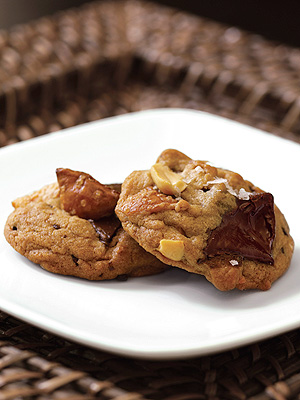 There's so much junk in this trunk, it had no choice but to be an amazing cookie. Kettle-cooked potato chips, salted pretzels, malted milk balls, butterscotch – salted peanuts? It's all here.

Pastry chef Hedy Goldsmith calls this the cookie that defined her career. "Over the years, the recipe has remained basically the same," she writes in her cookbook Baking Out Loud. "Always gooey, salty and amazing – with the supporting players changing depending on where my head is on a given day."

Goldsmith bakes the cookies just as her customers are heading in for their lunch, tantalizing them with their irresistible aroma. She urges you to do the same.

"These are best eaten when fresh and warm," she writes, "so have them the same day or promise you will reheat them just enough for the chocolate to ooze, giving them that just-baked feel."

If you're feeling like it (and who isn't?), the dough makes for a great addition to ice cream.


Junk In Da Trunk Cookies
Makes 16 (2½-inch) cookies
• 1¾ cups all-purpose flour
• ¾ teaspoon baking soda
• ½ cup (1 stick) unsalted butter, at room temperature
• ½ cup (packed) dark brown sugar
• ½ cup granulated sugar
• ¾ teaspoon kosher salt
• 1 extra-large egg, at room temperature
• 1 teaspoon vanilla bean paste or pure vanilla extract
• 6 ounces bittersweet chocolate (preferably Valrhona 70%), cut into ½-inch pieces
• ½ cup lightly crushed kettle-cooked potato chips
• ½ cup coarsely chopped salted pretzels
• ½ cup butterscotch morsels
• 12 malted milk balls, cut in half (about ½ cup)
• ½ cup salted peanuts (preferably Virginia), coarsely chopped
• Coarse sea salt, for sprinkling


1. Sift together the flour and baking soda.
2. Using an electric mixer fitted with the paddle attachment, beat the butter on medium speed for about 3 minutes, until soft and smooth. Add the brown sugar, granulated sugar, and salt and beat on medium-high speed for 5 minutes, until light and fluffy. Scrape down the sides of the bowl.
3. Add the egg and vanilla and beat for 1 to 2 minutes, until just blended. Add the flour mixture and beat on low speed until just combined. Do not overmix.
4. Using a rubber spatula, scrape down the sides of the bowl. Add the chocolate, potato chips, pretzels, butterscotch morsels, malted milk balls, and peanuts. Stir until just blended. Don't be concerned if it seems like there is more junk than cookie dough.
5. Using a 3-tablespoon ice cream scoop, shape the dough into balls and arrange them close together on a large plate or small baking sheet.
6. Cover and refrigerate for at least 1 hour, until well chilled. The dough can also be covered and refrigerated overnight, or up to 2 days before baking. Reminder: Cold dough bakes better.
7. Position the oven racks in the upper middle and lower middle of the oven, and preheat the oven to 350ºF (335ºF if using a convection oven). Line 2 baking sheets with parchment paper or nonstick liners. Arrange the chilled dough balls about 2 inches apart on the prepared baking sheets. Using the palm of your hand, flatten each dough ball slightly. Sprinkle the tops with a little sea salt.
8. Bake for 11 to 13 minutes (8 to 9 minutes if using a convection oven), switching the baking sheets' positions halfway through baking, until light golden brown. I think these cookies are at their best when slightly underbaked and the chocolate looks oozy and gooey. Transfer the baking sheets to wire racks and let the cookies cool completely. Store in an airtight container for up to 5 days and reheat before serving.