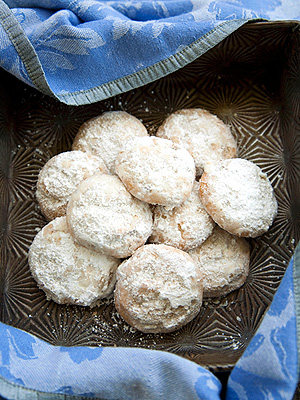 At best, these are powdered baked clouds that melt marvelously on the tongue. At worst they're – well, OK, so they're never at their worst.

I'm more Tex-Mex than Mex-Mex when it comes to making these, opting more for the "Mexican wedding cookie" look (frosted) rather than what my friends of Mexican descent simply refer to as pan de polvo, or polvorones, adding a bit of anise and eschewing that follow-up roll in powdered sugar (which I like to do twice).

Some sweet talk: These are served less at weddings and more at Christmastime, and they make great gifts. My grandmother used to add 1 tablespoon bourbon or rum to the batter.


Mexican Wedding Cookies
Makes about 24 cookies
• 1 cup (2 sticks) unsalted butter, at room temperature
• 1½ cups powdered sugar
• 1 teaspoon vanilla extract
• ¼ teaspoon salt
• 1¾ cups all-purpose flour
• 1 teaspoon ground cinnamon
• 1 cup ground toasted pecans, walnuts, or almonds

1. In a medium bowl, use a hand mixer on high to whip the butter until light and fluffy. Add ½ cup of the powdered sugar and whip on high until light and fluffy again. Add the vanilla and salt and, with the hand mixer on low, combine until just blended.
2. In a medium bowl or on a sheet of wax paper, sift together the flour and cinnamon. Add to the butter mixture. Add the nuts and stir with a wooden spoon or spatula until blended. Cover and refrigerate for at least 1 hour.
3. Preheat the oven to 350ºF.
4. Shape the dough into 2-inch balls. (A small cookie scoop comes in handy for this.) Place them about 1 inch apart on an ungreased cookie sheet and bake for 15 to 18 minutes, or until the cookies are just golden on the bottom. Remove them to cool on wire racks for about 5 minutes.
5. In a medium bowl or on a sheet of wax paper, sift the remaining 1 cup powdered sugar. Roll the warm cookies in the sugar and return them to the racks to cool. Once the cookies are cool, roll them again. Store at room temperature in an airtight container for about 1 week.

Excerpted from Sweet on Texas: Lovable Confections from the Lone Star State by Denise Gee. Copyright © 2012 by Denise Gee. Excerpted by permission of Chronicle Books. All rights reserved. No part of this excerpt may be reproduced or reprinted without permission in writing from the publisher.