Olympic Medal Roundup: Here's What You Missed This Weekend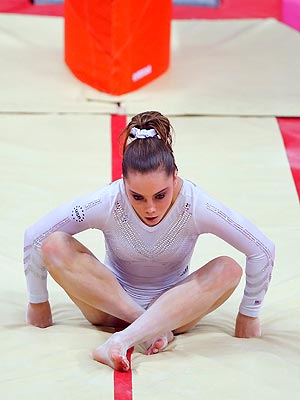 As the London 2012 Olympic Games press on, Saturday and Sunday's exciting events propelled British athletes to the forefront.

Although China leads with the most medals – 61, including 30 gold, 17 silver and 14 bronze – Team GB's victories helped boost the host country's morale with an outpouring of spirit and success during days 9 and 10 of the Games.

Team USA experienced highs and lows as well, as the medal count grew to 57 – 27 gold, 14 silver and 16 bronze – with Serena Williams taking home two gold medals and fan favorite McKayla Maroney's surprising finish in the women's vault final.

On Sunday, Scottish tennis player Andy Murray defeated Roger Federer, who beat him at Wimbledon last month, to claim gold – and revenge! – with his 6-2, 6-1, 6-4 victory.

Somalia-born British runner Mo Farah took home top honors in the men's 10,000-meter final on Saturday with his time of 27:30.42. Not far behind Farah, 29, was his training partner, American athlete Gaelan Rupp, 26, who earned the silver medal with his time of 27:30.90.

"Two great athletes. Best of friends," coach Alberto Salazar told the Associated Press. "They are great training partners for each other and they will do anything for each other."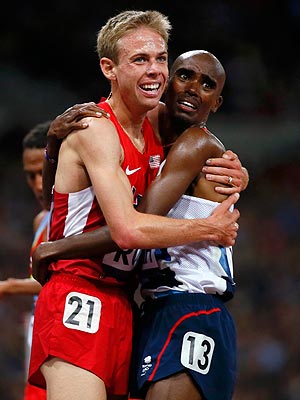 Lucy Nicholson / Reuters / Landov

Serena Williams had an outstanding weekend. On Saturday, the 30-year-old tennis star vanquished Russia's Maria Sharapova in the women's singles final. Then on Sunday, she and sister Venus, 32, defeated Andrea Hlavackova and Lucie Hradecka from Czech Republic to win gold in women's doubles.

McKayla Maroney, whose vaulting skills helped lead Team USA to victory in the team final, fell during the women's individual vault final, which left the young gymnast saddened, but still a silver medalist.

"Disappointed on how today turned out, but everything happens for a reason!! #noregrets.. " the 16-year-old gymnast Tweeted. "Plus, the silver medal is actually pretty sick!!"

Oscar Pistorius, a South African double-amputee, stunned audiences when he qualified for the 400-meter semifinals on Saturday. The 25-year-old four-time Paralympic gold medal winner runs on prosthetic legs called Flex-Foot Cheetahs.

Although Pistorius, who is also nicknamed "Blade Runner," didn't place following Sunday's semifinals, his determination has certainly inspired legions of fans.

The third time's the charm for 400-meter runner Sanya Richards-Ross. The reigning world indoor champion won medals at the 2004 and 2008 Olympics, and on Sunday took home her first individual gold medal with her time of 49.55 seconds.

The sprinter, 27, is married to Jacksonville Jaguars cornerback Aaron Ross. "It's unprecedented, but the Jacksonville Jaguars are going to allow him to come over [to London to watch]," Richards-Ross said last week. "It's such a thrill for me; my husband has never seen me compete in a major championship because of his schedule in college and at a professional level."