Diem Brown on Her Coolest Day Ever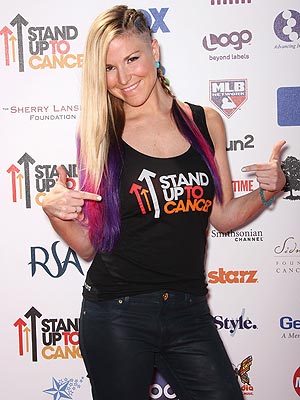 In her PEOPLE.com blog, Diem Brown, the Real World/Road Rules Challenge contestant recently diagnosed with ovarian cancer for the second time, opens up about her desire for a child and the ups and downs of cancer and fertility procedures

I have been an entertainment reporter since college, so at this point I really don't get "starstruck" too often. However, being backstage at Stand Up to Cancer, I became a goofy, giddy girl looking at these ridiculously cool mega watt stars lending their time and their celebrity to promote finding a cure for this nasty, annoying as can be disease... cancer!

It sounds silly, but I don't wear jeans. No, really. Ask any of my girlfriends. I never wear jeans ... like ever! This is probably because putting on a pair of jeans can either make you smile with satisfaction or have you jumping around your apartment trying to squeeze and zip, straining and grasping for air. The latter tends to leave you feeling self-conscious. At least it does for me, as these steroids have had quite the "fun" bloat effect.

As of late, I prefer flowy dresses. They never turn on you! But getting the phone bank Stand Up To Cancer T-shirt in the mail, I knew it was time to face the judging denim demon and buy some jeans. (Only a 4-year-old can pull off the T-shirt over a dress look.)

As soon as I walked in the mall, I saw them like a glaring spotlight: I saw blackish pants that ombré into teal! Yeah, teal (a.k.a. the ovarian cancer color). I've been wanting to make a statement in some way, especially because September is Ovarian Cancer Awareness month. So, after purchasing my funky pants I got an idea ...




Taking Control
I want to be stronger and in more control this time around with chemo and the hair loss side effects that I know are bound to happen. So looking down at these brightly colored pants I decided, 'I'm gonna have some fun with my hair while it's still here!"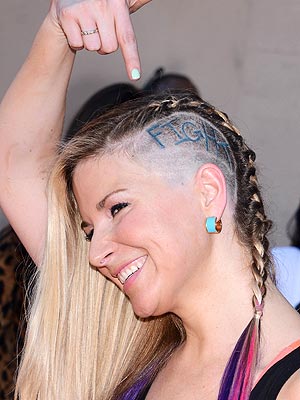 I decided to "My Little Pony" color the tips of my hair bright purple and pink with that same ombré effect. And on the other side I wanted be a lil' rocker and shave part of my head and etch in the word "FIGHT!"

I know most cancer patients shave their whole head right before chemo and I applaud them. Personally, I guess I'm too much of a baby and haven't been able to shave it all off just yet. I've recently decided to look at my hair falling out as an opportunity to do funky hairstyles I would never normally try! Why not have some fun with the hair loss process?!

I'm in no way a funky, cool girl, but rocking this "out there" look makes me feel in control. While walking that Stand Up To Cancer red carpet, I felt like I was saying, "Screw you, cancer! You can't knock me down," while I tossed my brightly-colored braid off my shoulder.

Being backstage I was an über goober looking over at Kobe Bryant and Chelsea Handler, who, by the way, just screams cool. Looking around the circle I was in awe of so many of the celebs but I lucked out and sitting next to me was the endearing Minka Kelly.

Now, Minka has to be one of the most gorgeous people I have ever seen! Forget her looks for a moment, just being around her you feel lifted by her sweet, caring spirit.

Talking to callers, Minka shared how she lost her mom to cancer, relating as delicately as anyone could to someone hurting on the other end of the phone call.



It was then that I looked up and glanced across the room and I didn't see famous faces, I saw people who have been touched by cancer in some way. Either directly, like Ethan Zohn, or indirectly by having watched a loved one battle cancer. It became so clear how powerful this event was on many levels.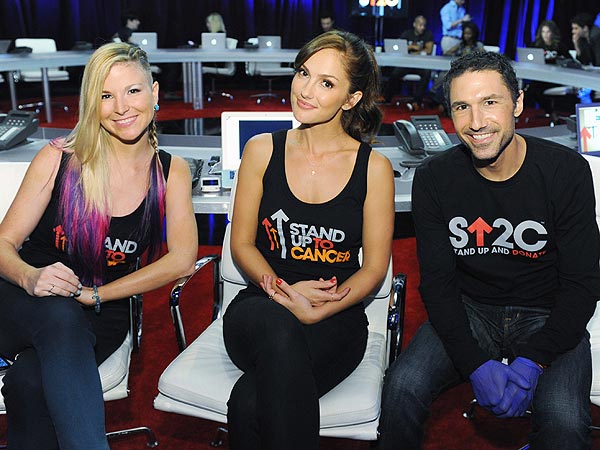 Yes, raising money is so important, as is awareness, but something else happened in that media bank room. People were connecting to complete strangers in deep, powerful ways because they, too, were touched by cancer. The power in that is seemingly simple, but I think there is something deeper.
We All Hit Speed Bumps in Life
Human compassion: We all have it, no matter what you have done or gone through in life. There comes a moment when human compassion takes over. You see with clear eyes that we all have had a "life speed bump" that we are dealing with. Yes, my speed bump is cancer, but everyone has a speed bump that they are trying to maneuver over.

At first in that giant backstage space I felt out of place and waaaay out of my league. I fully understand I am just some MTV reality girl with cancer, which in itself is a disease that touches soooo many people.

I'm not trying to be some Hollywood actress, but I do think it's time someone blew a horn to raise awareness of the kinks in our health system and to help find ways to make being a patient easier.

We all will be patients at some point or another. My second battle with ovarian cancer has made me want to be a patient advocate now more than ever. I want help find ways to fix problems in patient procedures and make decision-makers more aware of the actual people struggling behind the medical files.

So please tweet me @DiemBrown or write comments below on situations you or a loved one have dealt with while sick that you wish would change. On the other hand, also please write any amazing experiences you or a loved on have had while sick that you wish would be the new standard of care.

Starting a conversation never hurts and maybe by collecting experiences we can help put faces on the health care debate and bring the focus back to the patients.

More Diem Brown Blog Posts