Adopt Me! Senior Dog Lupo Is a Gentle Giant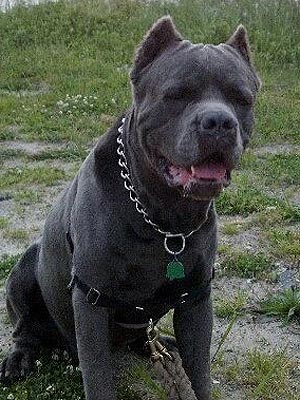 Home. Some pets never have one to call their own. We'd like to help change that by introducing you to an extraordinary adoptable pet every week. Today, we'd like you to meet Lupo, a 7-year-old cane corso recently given up by his New York family.

When Lupo got feisty with a babysitter over a toy, the dog's parents, who were caring for an infant, made the decision to give him up. What they didn't realize was that the senior dog was losing his sight and was often startled because he couldn't see.

"He's about 70-percent blind, we're estimating," says Johnny O, one of the founders of the Rescue Ink animal rescue, based in Long Beach, New York. "I've had plenty of kids around him and he's happy – it was just one of those unfortunate situations. When you're a young couple your first protection is the child."

This sweet and affectionate dog needs an owner who is understanding of his special needs – specifically, one who will give him auditory cues. "He doesn't know you're coming, so that's where the education comes in," he explains. "You have to be careful in regards to playing with him or feeding him."

Johnny O says this "good boy" is a calming presence at the shelter around both dogs and cats. "He's calming like Daddy from the Dog Whisperer. The dogs here feed off [his energy]," he says. "He's very obedient."

Although he weighs approximately 120 lbs., Lupo has lived in apartments all his life and is comfortable in small spaces. But he welcomes the chance to run around, too."I moved him to one of the big runs in back of the shelter, he's living like a king," he adds.

If Lupo sounds like the sweet companion you've been looking for, contact the Rescue Ink Long Beach Animal Shelter at (516) 665-9050. To read more about him, visit his Petfinder profile page.

Click here to meet last week's adoptable pets, Joanie and Davy.

Adopting a pet is an amazing experience – and a big decision! Before bringing a pet into your home it's important to consider your family circumstances and do your research on breeds.