Jennifer Aniston Debuts Engagement Ring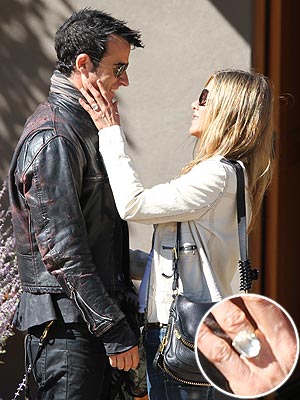 Hiding no more!

Jennifer Aniston showed off quite the rock while out with fiancé Justin Theroux in Santa Fe on Saturday.

Theroux was visiting the actress – who's currently filming We Are the Millers in New Mexico – when Aniston, 43, reached up to touch his face, baring the bauble.

The couple were engaged Aug. 10 after dating for more than a year.

"Everyone is really excited for them," a source told PEOPLE at the time.

"It's amazing to see how happy Justin makes Jen, and everyone was always hoping that he would propose."