Adopt Me! Nadia's Disability Doesn't Slow Her Down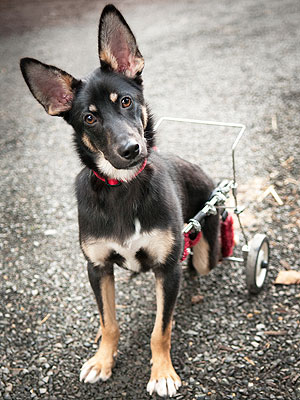 It's Adopt-a-Shelter-Dog month, and in honor of the wonderful rescue dogs out there, we're introducing you to pets-in-waiting all throughout October. Today, we'd like you to meet Nadia, a 2-year-old black-and-tan shepherd mix with special needs.

When she was just 3 months old, Nadia was hit by a car and left for dead by the side of the road in California. A Good Samaritan helped get her to a vet who discovered that she was paralyzed from the waist down. Staff at the Pasado's Safe Haven in Sultan, Wash., took her in and made the difficult decision to do what was best for Nadia.

"Her back legs weren't working," says Amber Chenoweth, media manager for the sanctuary. "We amputated her legs and she gets around so much better now. She doesn't know any different."

The plucky pooch has never let her disability dictate how she lives her life. Within a few weeks of the operation she was walking around on her two front legs. Now she can run, hop and even go down stairs. "She's got an amazing spirit," says Chenoweth, adding that she loves being around people, other dogs and cats.

Nadia may use a wheelchair, but as far as she's concerned, she's just like any other dog. Even still, her new owner will have to meet a few requirements before they can bring this special needs pup home.

It's preferred that her next owner have veterinarian medical experience or hospice experience. They'll also need to have the time and funds to give Nadia the long-term care she needs, including regular acupuncture appointments and extra vet visits. Nadia's back pain comes and goes, so she needs to be monitored and given medication when needed.

People could learn a lot from this sweet soul. "Nadia clearly does not dwell on what has been lost," reads her sanctuary biography. "But more on what has been gained."

If Nadia's sounds like the inspirational pet you've been looking for, contact the Pasado's Safe Haven at (360) 793-9393.

Click here to meet last week's adoptable dog, Pebbles.

To learn more about Nadia and the sanctuary, watch the video below.



Adopting a pet is an amazing experience – and a big decision! Before bringing a pet into your home it's important to consider your family circumstances and do your research on breeds.