Brooke Burke-Charvet Has Tom Bergeron's 'Love and Support' During Cancer Scare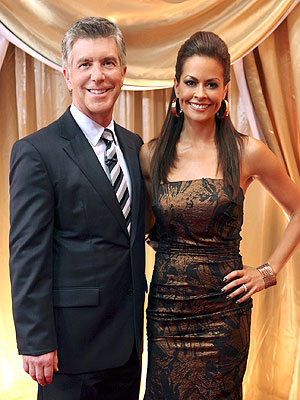 Brooke Burke-Charvet isn't going through her thyroid cancer scare alone.

Not only does she have her immediate brood behind her, but she also has her Dancing with the Stars family.

"She knows my love and support are with [her]," the TV personality's DWTS co-host Tom Bergeron said Thursday on The Talk, just hours after Burke-Charvet revealed she will undergo a thyroidectomy. "We're all right there with her."

In fact, Burke-Charvet, 41, confided in Bergeron, 57, long before her health news went public.

"I've known about this for a few months, and I told her at the time she first told me that I've had experience with this in my family," the Emmy Award-winner said. "You never want to hear the word 'cancer,' but thyroid cancer is one of the most treatable cancers. It has an incredibly high success rate."

One of Burke-Charvet's fears is the scarring of the neck that will result from the procedure, but Bergeron reassures her by explaining, "In the hands of a very good surgeon, as I'm sure she has one, [the scar] doesn't necessarily have to be that visible."

Staying positive, Burke-Charvet said in her video, "I'm ready to deal with it, and I'm going to be fine. I feel really, really strong."