LeAnn Rimes Rescues Puppy Abandoned in Traffic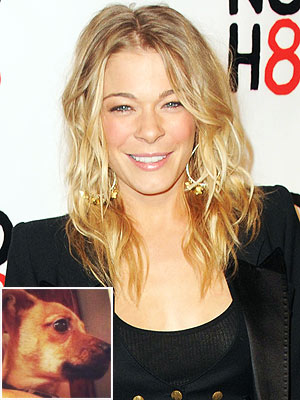 LeAnn Rimes said she felt like she was starting over, and this week, she means it.

The singer is beginning a whole new chapter – a wiggly one on four legs – with a puppy she and her family adopted on Wednesday.

The surprise addition joined Rimes, husband Eddie Cibrian, and Cibrian's sons – Mason, 9, and Jake, 5 – after a very rough morning: the puppy was abandoned in traffic on a busy street in the Los Angeles area.

After seeing a Tweet from friend Karla Hoffman, who picked up the dog after seeing it get discarded, Rimes asked to meet the puppy.

The 5-lb., approximately 8-month-old dog fit right in. "We ALL fell in love at first sight," Rimes writes on her blog. "Even our doggies welcomed her instantly."

Mason named the puppy Eveie, a moniker he had been saving "for his little sister so he says," Rimes writes. "Mason says she came just in time for Thanksgiving."

"She's brought a ton of joy into our home in just the few hours she's been with us," Rimes adds. "Eveie has a new home and family and we have a new love!"