Boo, the World's Cutest Dog, Goes on Holiday Adventure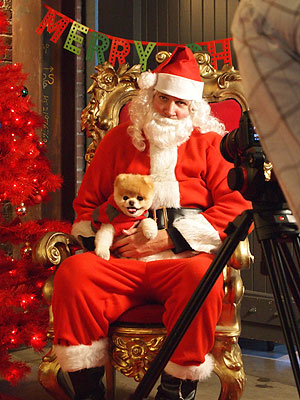 What do you give a dog who has everything? (Well, if everything is nearly 6 million Facebook fans.)

You might think that Santa Claus had a tall order to fill when he got a visit from Boo, the World's Cutest Dog. Dressed in his spirited holiday finest, the adorable Pomeranian sat on Santa's lap and communicated a few of the item's on his Christmas wish list.

What does little Boo want this year? A bone, a bear – even an iPad. The big-ticket item on that list, a candy-red toy Mercedes Benz, came early with a little help from Santa and his elves, and Boo (along with his brother, Buddy), got to take a holiday joy ride to kick off the season.

"Boo loves the holidays because not only does he get presents and treats, but his owner gets lots of visitors and they go out to parties," Boo's publicist tells PEOPLE. "He's a social dog so he enjoys the celebrations with friends."