Guy Fieri Defends Restaurant After New York Times Review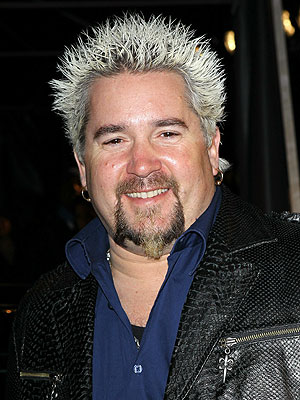 After being fricasseed by The New York Times in a blistering restaurant review that a chef wouldn't wish upon his worst enemy, Guy Fieri says he's not canceling his subscription to the paper.

But the Food Network's Diners, Drive-Ins and Dives host – the 10th highest-paid chef in the country – is not taking the Times attack by food critic Pete Wells lying down, either.

"I just thought it was ridiculous," Fieri said on Thursday's Today show, after flying all night to appear on the program to defend his 2-month-old Guy's American Kitchen & Bar in Times Square, the target of Wells's scathing attack.

"I've read reviews. There's good and there's bad in the restaurant business," Fieri said. "That one went overboard."

The review lit up Facebook and Twitter as Wells skewered the service, food and drinks – one of which, a blue concoction (a margarita, actually), was likened to nuclear waste.

"And when we hear the words Donkey Sauce," Wells asked in his critique, written after four visits to the establishment, "which part of the donkey are we supposed to think about?"

"I've been in the restaurant business 25 years. Do we do it perfect? No. Do we strive to do it perfect? Yes," said Fieri, adding that Wells "came in with a different agenda."

Interviewer Savannah Guthrie pointed out that reviews of Guy's American Kitchen & Bar on Yelp were only mediocre at best, averaging two and a half stars out of a possible five. But Fieri replied, "People see me as a TV guy. I'm really a chef," and said of his restaurant, "I think that will change. It's two months now. Let's see where it is in six months."

Insisting that the restaurant – all 500 seats of it – is his heart and soul, Fieri went on say, "Do I think I've fallen short? By no means. [But] do we make mistakes? Absolutely."