Chris Daughtry Shares His Tips for Keeping Fit on the Road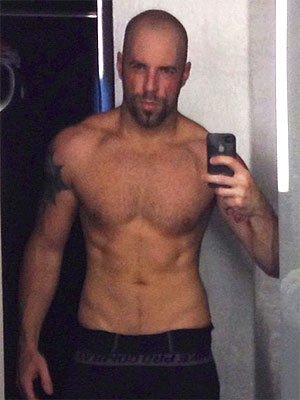 In September, Chris Daughtry turned heads when he Tweeted a shirtless photo of himself after a 23 lb. weight loss. Since releasing the photo, Daughtry has kept the pounds off – and even built more muscle, thanks partially to the large home gym on his 45-acre estate in rural North Carolina where he works out "almost every day."

But what happens when he goes on the road?

As the rocker and his band embark on a co-headling tour with 3 Doors Down this month, Daughtry, 32, knows the risks.



"When I've gone on tour in the past, everything has gone out the window," he tells PEOPLE. "Late-night eating, junk food, pizza, donuts, beer. I gained 25 lbs. and I didn't realize it until I saw photos myself and I went, 'Oh my gosh, I can't even see my jawline. Who is that guy?' "

Sitting at home with PEOPLE, Daughtry shares his rules for maintaining his six pack while away from home.

• No late night eating: "I've got to be very smart about what I'm taking into my body and when I do it," he says. "So I have to stop eating late at night, which is hard. When you're on tour, you're up late, and it's tempting to eat, so I have to avoid it."

• Stay away from compromising situations: "I love pizza. If it's around, I'm gonna eat it," the singer explains. "If there's a cheeseburger around, I'm going to eat it. If there are cookies, I'll eat a lot of them. So one key is not to have them around."

• If you overeat, pay for it immediately: "If I do eat those things, which is going to happen, I pay for my carnivorous sins right away," he says. "I get more exercise and burn off the calories. You have to pay for them as you go, and not let them turn into 25 extra pounds. I'm not going to totally deprive myself of the things I love to eat; instead I'll eat them in moderation and then immediately deal with the fallout."

• Get exercise every day: "When I'm on tour, I get exercise on stage," Daughtry says, "but on off days, I have to do circuit training or cardio. It takes a lot of work, but nothing about staying in shape is easy."