Gabriel Aubry: Olivier Martinez Threatened to Kill Me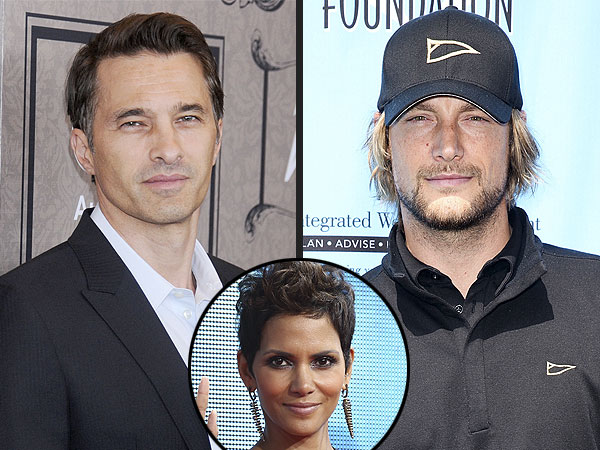 Gabriel Aubry has come back swinging – this time in court papers.

Halle Berry's ex alleges that it was her fiancé Olivier Martinez who started their Thanksgiving Day fight, unleashing profanities and threats as well as fists.

Aubry claims that during their scrape Olivier said, "You cost us $3 million. When you see the judge, you're going to tell him you're going to Paris or I'm going to kill you."

Aubry has been tangling in court with Berry over her request to move with their 4½-year-old daughter Nahla to France, where Martinez is a citizen. The judge recently ruled against Berry.

The allegations are contained in Aubry's application for a restraining order against Martinez, which the court granted. Attached to his application were gruesome photos of Aubry's injuries, including a black eye and cuts and bruises to his face.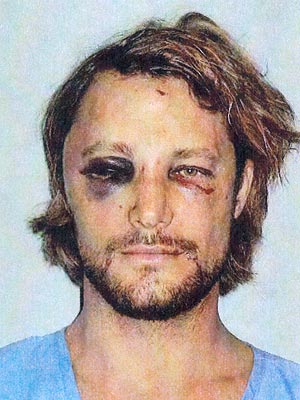 Courtesy of George R. Royce

Martinez has not commented. Aubry's account is disputed by a source close to Berry.

"This incident arose as a result of a fight initiated by Mr. Aubry when Nahla was delivered for Thanksgiving and Mr. Martinez attempted to have a discussion with him," the source tells PEOPLE.

Aubry, himself, faces an emergency restraining order to stay 100 yards away from Martinez, Berry and Nahla.

Aubry alleges in his court papers that as he drove up to Berry's house with Nahla in the backseat, he saw Martinez and thought it was odd since Martinez is not usually at the house during custodial hand-offs.

Aubry claims Nahla said, "Olivier is here. I'm scared."

After handing off Nahla to somebody named Miriam, who took the child indoors, Martinez appeared and told Aubry, "We need to talk," Aubry alleges.

"All of a sudden, Mr. Martinez jumped me on the side of my body, and punched me such that he had taken me down to the ground," Aubry alleges. "He continued to punch me at least two or three times, kicked me in the ribs with his knee or foot, and took my head in his hands and slammed it to the concrete driveway. It all happened so fast and so suddenly; I did not see Mr. Martinez's actions coming, and thus, I was not ready for it and was not able to defend myself."



As Martinez allegedly threatened to kill Aubry, Martinez also said, "From now on you're going to do drop offs on the street. I'm not just some f––ing actor, you don't know me," Aubry claims in the court papers.

Police officers arrived and arrested and handcuffed Aubry after Martinez told them that Aubry had attacked him several times, Aubry claims. (Martinez also was treated at the hospital for hand and neck injuries).

Aubry told the officers that the incident could have been captured on Berry's security cameras and that they should obtain the tapes before they're erased.

Aubry says he was kept in handcuffs while being transported to the hospital.

"I was handcuffed to the bed while I was being examined and treated, and was not allowed to make a phone call," he says in a declaration. "I ended up suffering a fractured rib, multiple bruises on my face and my forehead, an area under my left eye, and three areas in my mouth required stitches."

• Reporting by KEN LEE